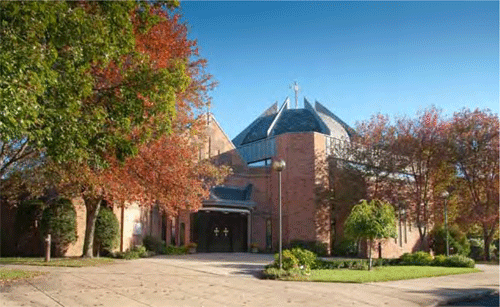 Beloved brothers and sisters in Christ,
Christ is in our midst!
Welcome to the website of the Annunciation Greek Orthodox Church of Brockton, MA. The Annunciation is within the Metropolis of Boston, which is part of the Greek Orthodox Archdiocese of America – one of the daughter Churches of the Ecumenical Patriarchate of Constantinople. The Church of the Annunciation is the only Eastern Orthodox Church in Brockton and its surrounding communities.
At the Annunciation, we conduct the full cycle of Sunday services, commencing with Orthros (Matins) and the Divine Liturgy on Sunday mornings. Throughout the liturgical year, we also celebrate the feasts of our Lord and the Theotokos (Mother of God), as well as the feasts of all major saints of the Church. From fall through spring, Small Vespers are also celebrated on most Wednesdays nights, with adult religious education sessions following the service.
We welcome all to worship with us, whether you are visiting the area or live locally. May God bless you!
---
Upcoming Services and Events
Jr. JOY Basketball Practice
Nov 15 5:30 pm
JOY Basketball Practice
Nov 15 6:45 pm
9th Sunday of Luke Divine Liturgy
Nov 17 10 am
General Assembly - Complimentary Lunch will be served
Nov 17 12 pm
Walk on Wednesday
Nov 20 10 am
Annunciation Spotlight
---
Mark Your Calendars!
Fall General Assembly - Sunday, November 17 with a complimentary luncheon for our Festival Volunteers. Following the Divine Liturgy.
Annual Christmas Tree Lighting with Caroling - Saturday, November 30 followed by a Family Pot Luck Dinner. 6:00 pm.
Breakfast with Santa - Sunday, December 8. Please RSVP to the Church Office if you would like to attend.
Parish Council Elections - Sunday, December 8.
Sunday School Christmas Pageant - Sunday, December 22.
New Year's Eve Dinner Dance - Tuesday, December 31 at 8:00 pm. Please call the Church office for reservations.
---
New Year's Eve

Tuesday, December 31, 2019

Lombardo's, 6 Billings St., Randolph, MA

8pm COCKTAIL HOUR


9pm SIT DOWN DINNER

Adults: Braised Short Ribs / Kids: Chicken tenders & French Fries


10:30 - 2AM DANCING

Includes: Champagne Toast, Hats, Streamers, Vasilopita

CASH BAR AVAILABLE 8PM - 1AM
---
Fr. Michael's November 2019 Message
Beloved in Christ,
Soon we will joyously celebrate the wonderful holiday of "Thanksgiving" which has been celebrated in the United States since 1863.
I pray that your homes are filled with happiness, love and thanksgiving to our Lord for the gifts that He gives us daily. As you sit at your festive table ask Him for Blessing, remembering that it is He who grants us all the wonderful gifts that we have.
Take the appropriate time to remember and be thankful for the freedom that we enjoy and pray for those who do not enjoy this God given right. Offer a special family prayer for those who are less fortunate, for those that suffer, for those that are hungry and remember that their deliverance is in our caring and personal sacrifices; it our civil and Christian duty to make their suffering less.
Remember the men and women of the arm services that serve throughout the world. Today they do not sit at their own family table, but they stand ever vigilant in protecting us. They celebrate this day not at a stranger's table but at a loving table filled with the Lord's protection and Grace alongside those that serve with them, their adopted brothers and sisters. Remember the men and women who serve as "first responders" that run without hesitation towards danger. Let us ask our God to protect these our brothers and sisters as we ask Him protect our family.
On behalf of Presvytera Cyndy and I, we express our love to all of you and we offer our warmest greetings on this wonderful celebratory day.
I close with the Liturgical "Thanksgiving Prayer" of Saint Basil the Great.
In His Love,
Father Michael
A Prayer of Thanksgiving
O Master Lord, God, almighty and loving Father: It is truly meet and right and befitting the majesty of Your holiness that we should praise You, hymn You, bless You, worship You, give thanks to You and glorify You, the only truly existing God, and offer to You with a contrite heart and with the spirit of humility this our rational worship; for You are He that has graciously bestowed upon us the knowledge of Your truth.
And who is sufficient to speak of Your mighty acts, to make all Your praises to be heard, or to tell of all Your wonders at every season?
O Master of all, Lord of heaven and earth, and of all creation both visible and invisible, who sits upon the throne of glory and beholds the depths, who are originate, invisible, immutable, the Father of our Lord, God and Savior Jesus Christ, our Hope. Who is the Image of Your goodness, the Seal of likeness, in Himself showing forth You, the Father, the living Word, the true God, the Wisdom before all ages, the Life, Sanctification, Power, the true Light, through Who the Holy Spirit was manifested: the Spirit of truth, the Gift of adoption, the Pledge of the inheritance to come, the First-fruits of eternal goodness, the life-giving Power, the Fountain of sanctification, by who enabled every rational and intelligent creature do serve You and ascribe to Your perpetual praise, for all things are Your servants.
Filled therefore with great awe at Your immeasurable mercies and love, do You receive the sincere praise and thanksgiving of our unworthy hearts for all that You have provided for us in this world and the next, and enable us to walk before You in holiness and purity all the days of our life in fitting gratitude for Your loving-kindness.
For blessed are You, O Holy Father, together with Your Son, our Lord Jesus Christ to Who, with You and the Holy Spirit, be all honor and glory and worship, now and ever and unto ages of ages. Amen.
---
Church Services Hours
Sundays:
Orthros at 8:45 am; Divine Liturgy at 10:00 am
Weekdays:
Orthros at 9:00 am; Divine Liturgy at 10:00 am
---
Online Bill Pay
The Annunciation Church offers an online bill pay service for the convenience of our parishioners. Click on the links below to fulfill your Stewardship or make other payments by credit card.
Donations (in memory of, floral, other)
---
Contact Information
Annunciation Greek Orthodox Church
457 Oak Street
Brockton, MA 02301
508-559-0910
Rev. Protopresbyter Michael A. Kouremetis
Telephone: 508-559-0911
Email: FrMichael@annunciationbrockton.org
Directions:
From Route 24 take Exit 18B (Route 27 North - Stoughton).
At lights take a right on to Pearl Street.
At second set of lights take a right on to Oak Street.
Drive 1 mile. The church is on the left. Welcome!
Office hours:
Monday through Friday from 9:00 am to 2:00 pm
Telephone: 508-559-0910
Email: office@annunciationbrockton.org
Click to join the Annunciation Church - Brockton E-mail List »
For questions or comments concerning this web site please contact the Webmaster at
helpdesk@annunciationbrockton.org
Online Chapel