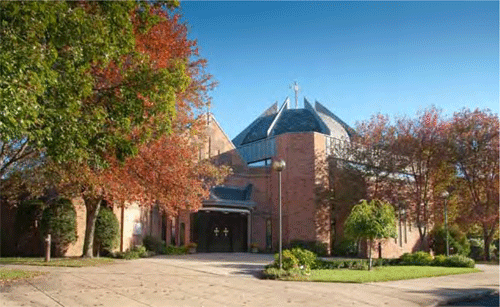 Beloved brothers and sisters in Christ,
Christ is in our midst!
Welcome to the website of the Annunciation Greek Orthodox Church of Brockton, MA. The Annunciation is within the Metropolis of Boston, which is part of the Greek Orthodox Archdiocese of America – one of the daughter Churches of the Ecumenical Patriarchate of Constantinople. The Church of the Annunciation is the only Eastern Orthodox Church in Brockton and its surrounding communities.
At the Annunciation, we conduct the full cycle of Sunday services, commencing with Orthros (Matins) and the Divine Liturgy on Sunday mornings. Throughout the liturgical year, we also celebrate the feasts of our Lord and the Theotokos (Mother of God), as well as the feasts of all major saints of the Church. From fall through spring, Small Vespers are also celebrated on most Wednesdays nights, with adult religious education sessions following the service.
We welcome all to worship with us, whether you are visiting the area or live locally. May God bless you!
---
Upcoming Services and Events
No Orthodoxy 101 Class tonight
Nov 15 7 pm
9th Sunday of Luke Divine Liturgy
Nov 18 10 am
GOYA Bake Sale - following the Divine Liturgy in the Lounge
Nov 18 12 pm
OPA! Thanksgiving Luncheon
Nov 20 12 pm
Entrance of the Theotokos Divine Liturgy
Nov 21 10 am
Annunciation Spotlight
Greek Festival Brockton '18
Thank you to all of our volunteers and guests for making Greek Festival 18 our biggest and most successful ever!
---
Fr. Michael's November 2018 Message
Beloved In Christ,
My Beloved Spiritual Children,
Thanksgiving is a beautiful Holiday of joyous celebration and the offering thanksgiving to our Lord for our family, friends and for the blessings of life and freedom. I pray that your homes and your sumptuous Holiday tables are filled with joy and gratitude for each other and may the warmth of the Lord embrace you all.
I ask you to take the time, on this special day to pray for those that are less fortunate and who do not have the ability to enjoy the splendor this day. At your festive table offer a family prayer for those who suffer and those who hunger. Pray for our men and women of the arm forces that serve throughout the World and also for the men and women who serve as first responders. We ask our Lord to protect them as they protect us.
God has granted us the Holy Spirit which confers grace and spiritual gifts upon us always. The grace of God heals, redeems and protects us all. Saint Paul speaks of this power, "For by grace you have been saved through faith; and it is not of your own doing, it is the gift of God" (Ephesians 2:8); we accept this gift with faith and thanksgiving. We fervently offer thanks to our almighty God as we commune with Him through the Holy Eucharist.
In the spirit of "Thanksgiving" I thank you all for your hard work and for your unconditional sacrifice and love that you offer to our beloved Annunciation Parish in so many ways.
I close with the reverent proclamation of President Abraham Lincoln who prayerfully addressed our Nation as he called the American people, during the Civil War, to set aside the last Thursday of November to celebrate Thanksgiving Day.
A Proclamation:
The year that is drawing towards its close has been filled with the blessings of fruitful fields and healthful skies. To these bounties, which are so constantly enjoyed that we are prone to forget the source from which they come, others have been added, which are of so extraordinary a nature that they cannot fail to penetrate and soften even the heart which is habitually insensible to the ever-watchful providence of Almighty God. In the midst of a civil war of unequaled magnitude and severity, which has sometimes seemed to foreign States to invite and to provoke their aggression, peace has been preserved with all nations, order has been maintained, the laws have been respected and obeyed, and harmony has prevailed everywhere except in the theatre of military conflict; while that theatre has been greatly contracted by the advancing armies and navies of the Union. Needful diversions of wealth and of strength from the fields of peaceful industry to the national defense have not arrested the plough, the shuttle or the ship; the axe has enlarged the borders of our settlements, and the mines, as well of iron and coal as of the precious metals, have yielded even more abundantly than heretofore. Population has steadily increased, notwithstanding the waste that has been made in the camp, the siege and the battlefield; and the country, rejoicing in the consciousness of augmented strength and vigor, is permitted to expect continuance of years with large increase of freedom. No human counsel hath devised nor hath any mortal hand worked out these great things. They are the gracious gifts of the Highest God, who, while dealing with us in anger for our sins, hath nevertheless remembered mercy. It has seemed to me fit and proper that they should be solemnly, reverently and gratefully acknowledged as with one heart and one voice by the whole American People. I do therefore invite my fellow citizens in every part of the United States, and also those who are at sea and those who are sojourning in foreign lands, to set apart and observe the last Thursday of November next, as a day of Thanksgiving and Praise to our beneficent Father who dwells in the Heavens. And I recommend to them that while offering up the ascriptions justly due to Him for such singular deliverances and blessings, they do also, with humble penitence for our national perverseness and disobedience, commend to His tender care all those who have become widows, orphans, mourners or suffer-ers in the lamentable civil strife in which we are unavoidably engaged, and fervently implore the interposition of the Almighty Hand to heal the wounds of the nation and to restore it as soon as may be consistent with the Divine purposes to the full enjoyment of peace, harmony, tranquility and Union.
In testimony whereof, I have hereunto set my hand and caused the Seal of the United States to be affixed;
Done at the City of Washington, this Third day of October, in the year of our Lord one thousand eight hundred and sixty-three, and of the Independence of the Unites States the Eighty-eighth.
By the President: Abraham Lincoln
William H. Seward, Secretary of State
My beloved, Presvytera Cyndy and I greet you in His Love and we give thanks to our Lord and Savior for all of you.
Have a Blessed and Joyful Thanksgiving Day!
In His Service,
+Father Michael
---
Church Services Hours
Sundays:
Orthros at 8:45 am; Divine Liturgy at 10:00 am
Weekdays:
Orthros at 9:00 am; Divine Liturgy at 10:00 am
---
Online Bill Pay
The Annunciation Church offers an online bill pay service for the convenience of our parishioners. Click on the links below to fulfill your Stewardship or make other payments by credit card.
Donations (in memory of, floral, other)
---
Contact Information
Annunciation Greek Orthodox Church
457 Oak Street
Brockton, MA 02301
508-559-0910
Rev. Protopresbyter Michael A. Kouremetis
Telephone: 508-559-0911
Email: FrMichael@annunciationbrockton.org
Directions:
From Route 24 take Exit 18B (Route 27 North - Stoughton).
At lights take a right on to Pearl Street.
At second set of lights take a right on to Oak Street.
Drive 1 mile. The church is on the left. Welcome!
Office hours:
Monday through Friday from 9:00 am to 2:00 pm
Telephone: 508-559-0910
Email: office@annunciationbrockton.org
Click to join the Annunciation Church - Brockton E-mail List »
For questions or comments concerning this web site please contact the Webmaster at
helpdesk@annunciationbrockton.org
Online Chapel