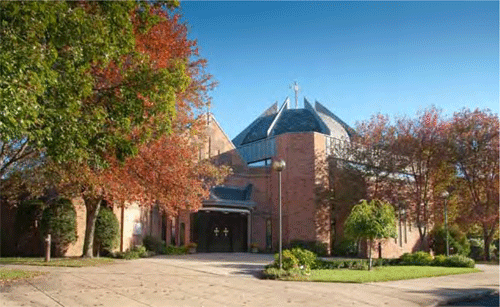 Beloved brothers and sisters in Christ,
Christ is in our midst!
Welcome to the website of the Annunciation Greek Orthodox Church of Brockton, MA. The Annunciation is within the Metropolis of Boston, which is part of the Greek Orthodox Archdiocese of America – one of the daughter Churches of the Ecumenical Patriarchate of Constantinople. The Church of the Annunciation is the only Eastern Orthodox Church in Brockton and its surrounding communities.
At the Annunciation, we conduct the full cycle of Sunday services, commencing with Orthros (Matins) and the Divine Liturgy on Sunday mornings. Throughout the liturgical year, we also celebrate the feasts of our Lord and the Theotokos (Mother of God), as well as the feasts of all major saints of the Church. From fall through spring, Small Vespers are also celebrated on most Wednesdays nights, with adult religious education sessions following the service.
We welcome all to worship with us, whether you are visiting the area or live locally. May God bless you!
---
Upcoming Services and Events
10th Sunday of Luke Divine Liturgy
Dec 8 10 am
Breakfast with Santa
Dec 8 12 pm
Parish Council Elections
Dec 8 12 pm
Parish Council Meeting
Dec 10 6 pm
Philoptochos Sack A Lunch Outreach
Dec 10 6 pm
Walk on Wednesday
Dec 11 10 am
Annunciation Spotlight
---
Mark Your Calendars!
Annual Christmas Tree Lighting with Caroling - Saturday, November 30 followed by a Family Pot Luck Dinner. 6:00 pm.
Breakfast with Santa - Sunday, December 8. Please RSVP to the Church Office if you would like to attend and bring an unwrapped toy!
Parish Council Elections - Sunday, December 8.
Sunday School Christmas Pageant - Sunday, December 22.
---
New Year's Eve

Tuesday, December 31, 2019

Lombardo's, 6 Billings St., Randolph, MA

8pm COCKTAIL HOUR


9pm SIT DOWN DINNER

Adults: Braised Short Ribs / Kids: Chicken tenders & French Fries


10:30 - 2AM DANCING

Includes: Champagne Toast, Hats, Streamers, Vasilopita

CASH BAR AVAILABLE 8PM - 1AM
---
Fr. Michael's December 2019/January 2020 Message
My Beloved in Christ,
May the Grace, mercy and peace of Jesus Christ who was born in a cave and laid in a manger for our salvation be with you all.
The Christmas Star, in its entire beauty, will again shine on all of us, His faithful people on this blessed and Holy Day of Christmas. It will shine upon the earth and guide all of us to our Savior's love. It will shine in our sanctuary, where the Son of Righteousness light will come upon all Christians in worship; it will sparkle from the top of our decorated Christmas trees and will shine its light upon our homes and upon the beautifully decorated presents placed under our trees.
Its rays will warm the hearts of the faithful believers, embracing them with heaven's proclamation that "Unto us a Savior is born today" and the angels' proclamation: "Glory to God in the highest and on earth peace, good will among men," (Luke 2:14). It is the hymn by which the multitude of heavenly hosts greeted the Christ Child.
The shepherds, who were watching over their flock on that chilly night, came to worship Him with humility and simplicity in their hearts. The Magi followed and for centuries humanity has been drawn near to Him, searching for truth and salvation.
Many philosophies, ideals, cynics and humanistic teachings, throughout the centuries, have tried to confuse and destroy man's sense of religious faith. These attempts have failed and have brought many more to the truth of God and His Holy Church. The majority of the true and faithful believers become stronger in their walk in Christ.
The eyes of our soul are fixed on that Holy Star and its rays sustain us and gives us the hope and expectation of peace and good will to all humanity. This is the Divine and human miracle that we celebrate in this Holy Season. Let your eyes gaze inwardly into your hearts and souls to see where Christ is born and where faith, hope and love lives. Allow your hearts to jump with joy at the expectation of a new rebirth of the spirit and life. Let His Light create a different kind of person in us, a person with a new positive outlook on life.
It is this type of Christmas Holiday I hope you will celebrate this year, with Christ in the center of your lives. With an enthusiastic spirit of giving, the kind that is expressed and exemplified with real love and affection for those who suffer or are in any way deprived of the joy of Christmas.
Presvytera Cyndy and I thank God for each and every one of you and we send our love and holiday greetings to you all.
With Blessings and Good Wishes for a Blessed Christmas and a Healthy and Spiritual New Year.
With love in the Incarnate Lord,
Father Michael
---
Church Services Hours
Sundays:
Orthros at 8:45 am; Divine Liturgy at 10:00 am
Weekdays:
Orthros at 9:00 am; Divine Liturgy at 10:00 am
---
Online Bill Pay
The Annunciation Church offers an online bill pay service for the convenience of our parishioners. Click on the links below to fulfill your Stewardship or make other payments by credit card.
Donations (in memory of, floral, other)
---
Contact Information
Annunciation Greek Orthodox Church
457 Oak Street
Brockton, MA 02301
508-559-0910
Rev. Protopresbyter Michael A. Kouremetis
Telephone: 508-559-0911
Email: FrMichael@annunciationbrockton.org
Directions:
From Route 24 take Exit 18B (Route 27 North - Stoughton).
At lights take a right on to Pearl Street.
At second set of lights take a right on to Oak Street.
Drive 1 mile. The church is on the left. Welcome!
Office hours:
Monday through Friday from 9:00 am to 2:00 pm
Telephone: 508-559-0910
Email: office@annunciationbrockton.org
Click to join the Annunciation Church - Brockton E-mail List »
For questions or comments concerning this web site please contact the Webmaster at
helpdesk@annunciationbrockton.org
Online Chapel