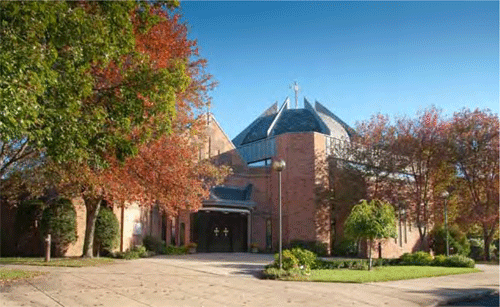 Beloved brothers and sisters in Christ,
Christ is in our midst!
Welcome to the website of the Annunciation Greek Orthodox Church of Brockton, MA. The Annunciation is within the Metropolis of Boston, which is part of the Greek Orthodox Archdiocese of America – one of the daughter Churches of the Ecumenical Patriarchate of Constantinople. The Church of the Annunciation is the only Eastern Orthodox Church in Brockton and its surrounding communities.
At the Annunciation, we conduct the full cycle of Sunday services, commencing with Great Vespers on Saturday evenings through Orthros (Matins) and the Divine Liturgy on Sunday mornings. Throughout the liturgical year, we also celebrate the feasts of our Lord and the Theotokos (Mother of God), as well as the feasts of all major saints of the Church. From fall through spring, Small Vespers are also celebrated on most Wednesdays nights, with adult religious education sessions following the service.
We welcome all to worship with us, whether you are visiting the area or live locally. May God bless you!
†Fr. Anthony Evangelatos
Presbyter
---
Upcoming Services and Events
15th Sunday of Luke Divine Liturgy
Jan 21 10 am
Great Vespers of St. Gregory the Theologian in Mansfield
Jan 24 6 pm
St Gregory the Theologian Greek Orthodox Church, 1007 West St, Mansfield, MA 02048, USA
St. Gregory the Theologian Divine Liturgy in Mansfield
Jan 25 9:30 am
St Gregory the Theologian Greek Orthodox Church, 1007 West St, Mansfield, MA 02048, USA
Great Vespers
Jan 27 6 pm
Sunday of the Publican & the Pharisee Divine Liturgy - TRIODION BEGINS
Jan 28 10 am
Annunciation Spotlight
His Eminence Metropolitan Methodios Announces the Appointment of The Reverend Anthony Evangelatos as the New Pastor of Saint Athanasius the Great Church in Arlington
Metropolitan Methodios installs the new Proistamenos (Presiding Priest) of Saint Athanasius Parish in Arlington, Massachusetts
---

June 19-26, 2016. See the official documents, news, photos, video, and more »
---
Fr. Anthony's December 2017/January 2018 Message
Beloved in Christ,
Now that we are within the Christmas season preparing for the Nativity of our Lord, we are reminded of the great joy surrounding the upcoming feast. It is because of the joy of the coming of the Savior into the world, that the Orthodox Church keeps a 40-day fast in preparation for the joyous feast of the Nativity. In today's world however, we seem to be surrounded by evil from all directions. There is no way we can avoid this reality, so we therefore need to find true joy in our lives that is more than superficial or "in the moment". A joy that is faith-based is not superficial, but one that can withstand the ugly face of evil. For an Orthodox Christian, such joy should be quite easy to seek and acquire.
Being Orthodox Christians, have we ever paused to contemplate the great joy found in Orthodoxy? As with many things in life, it is so easy to take for granted the priceless treasure into which most of us have been born and baptized. Some who are "cradle" Orthodox may not be very familiar with other faith traditions, so the Orthodox experience is all they know. Therefore, there is always the danger of becoming complacent in one's approach to our faith tradition.
When speaking with converts to Orthodoxy who have come from other Christian denominations or other faith traditions, they consistently speak of the joy and spiritual beauty which they have found in the Orthodox Church. In fact, this has been the reaction of those who have discovered Orthodoxy throughout many centuries. Allow me to share a classic and often repeated quote describing a moving encounter with Orthodoxy, during the Divine Liturgy in Hagia Sophia Cathedral in Constantinople. In the late 900's AD, Prince Vladimir of pre-Orthodox, pagan Russia was seeking an appropriate religion for his subjects, having been disillusioned with paganism. Already having excluded Judaism, he sent emissaries to various parts of the inhabited world to report on other faith traditions. They were not impressed with Islam, and after witnessing western style Christian services in Germany, they again were uninspired. Upon experiencing the Divine Liturgy in Hagia Sophia they stated the following:
We knew not whether we were in heaven or on earth, for surely there is no such splendor or beauty any-where upon earth. We cannot describe it to you. Only we know that God dwells there among men, and that their service surpasses the worship of all other places. We can-not forget that beauty.
Imagine being in their shoes on that life-transforming day! Imagine also the reaction of converts when they first encounter Orthodox worship. In fact, the first reaction of many converts who came from non-liturgical traditions is, "so this is what I've been missing all those years!" We should clarify that it's not only the liturgical worship that many converts are attracted to, but equally important is the realization that in Orthodoxy, one finds the fullness of the Christian faith as given to us by the Lord's Holy Apostles.
Let us remember that Orthodoxy is the uninterrupted continuation of the original Church founded on the day of Pentecost. The Orthodox Church has clarified, defended, and passed on the Apostolic faith and tradition from generation to generation. Martyrs and confessors shed their blood and suffered for the true faith. Every imaginable heretical teaching has been addressed and defeated by the undivided Orthodox Church. Men and women saints from various backgrounds have been produced by the Church, who bring us closer to God through their virtuous example. Their holy icons adorn the walls of our churches, many times producing wondrous signs and miracles through the grace of the Holy Spirit.
Therefore, as Orthodox Christians, we should always rejoice with great joy that we are part of the One, Holy, Catholic (meaning "universal"), and Apostolic Church. That being said, we must be careful not to take this in an arrogant way, believing that we are above all other Christians. We should love and respect all our brothers and sisters in Christ, and for that matter, all of humanity.
Our joy results from the fact that our faith tradition is unadulterated, and that our Church is true to its origins, seeking to bring all to the fullness of the Faith. The beauty of our temples and worship services speaks for it-self. Everything we do in church aids in bringing us into the presence of God. When we enter an Orthodox church we find ourselves somewhere between heaven and earth, especially during liturgical services. Two thousand years of Holy Tradition have touched countless lives with spiritual bliss, including our current generation of faithful Orthodox Christians, and God willing, countless more souls in the generations to come.
My brethren in Christ, may the beauty and joy of our lives in Orthodoxy continue to fill our hearts, minds, and souls. With the terrible events that continue to plague the human race, it is a great blessing to be part of our Orthodox Church that continually takes us under its wings as a loving mother. I pray that this Christmas season be filled with joy and peace as you approach the blessed birth of our Lord, and His subsequent Theophany at His holy baptism in the Jordan.
In Christ,
†Fr. Anthony
---
Church Services Hours
Sundays:
Orthros at 8:30 am; Divine Liturgy at 9:45 am
Weekdays:
Orthros at 9:00 am; Divine Liturgy at 10:00 am
Great Vespers:
Saturdays at 6:00 pm
---
Online Bill Pay
The Annunciation Church offers an online bill pay service for the convenience of our parishioners. Click on the links below to fulfill your Stewardship or make other payments by credit card.
Donations (in memory of, floral, other)
---
Contact Information
Annunciation Greek Orthodox Church
457 Oak Street
Brockton, MA 02301
508-559-0910
Directions:
From Route 24 take Exit 18B (Route 27 North - Stoughton).
At lights take a right on to Pearl Street.
At second set of lights take a right on to Oak Street.
Drive 1 mile. The church is on the left. Welcome!
Office hours:
Monday, Wednesday and Friday from 10:00 am to 2:00 pm
Tuesday and Thursday from 9:00 am to 1:00 pm
Rev. Fr. Anthony Evangelatos - Presiding Priest
priest@annunciationbrockton.org
Office - office@annunciationbrockton.org
Join the Annunciation Church - Brockton E-mail List »
For questions or comments concerning this web site please contact the Webmaster at
helpdesk@annunciationbrockton.org
Online Chapel