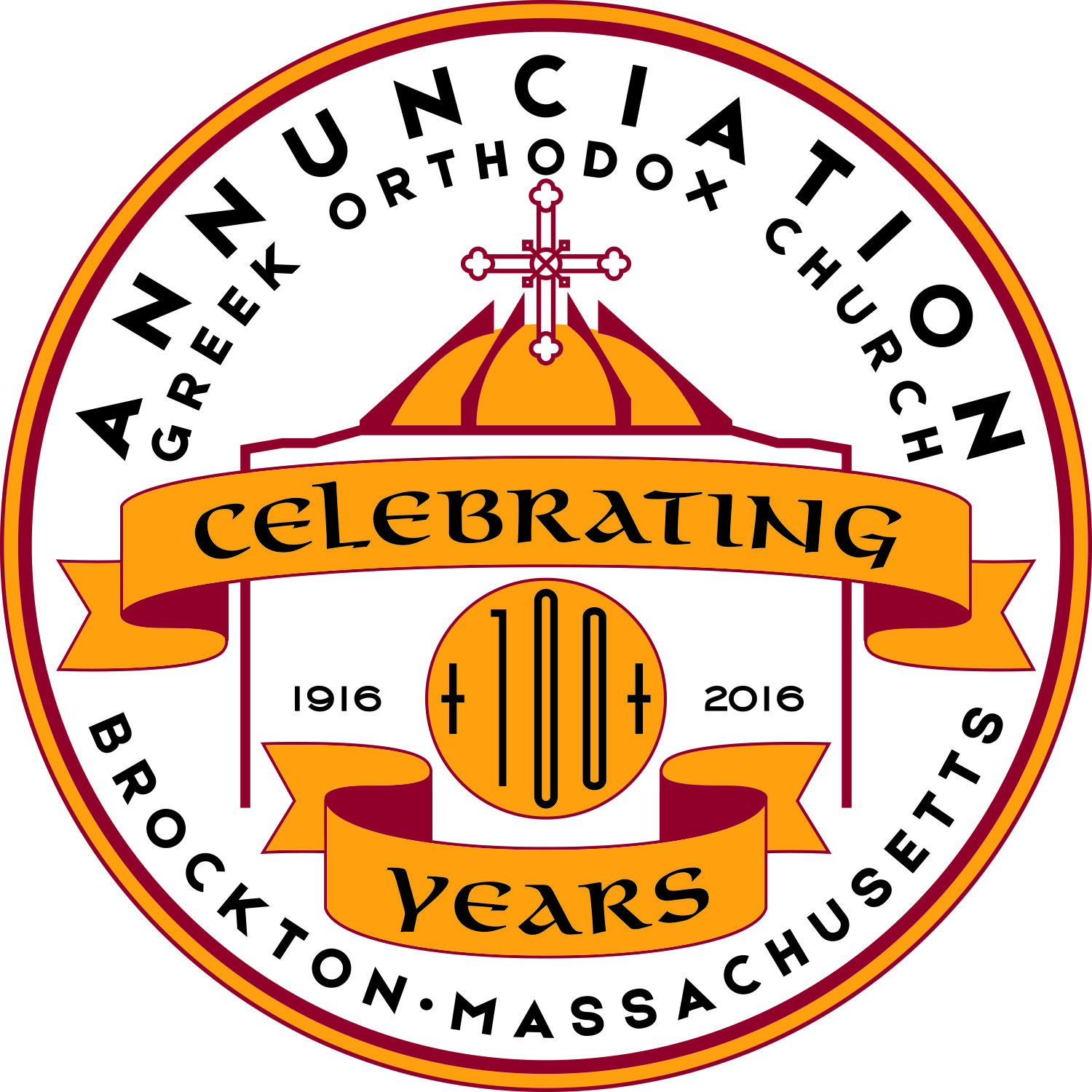 Beloved brothers and sisters in Christ,
Christ is in our midst!
Welcome to the website of the Annunciation Greek Orthodox Church of Brockton, MA. The Annunciation is within the Metropolis of Boston, which is part of the Greek Orthodox Archdiocese of America – one of the daughter Churches of the Ecumenical Patriarchate of Constantinople. The Church of the Annunciation is the only Eastern Orthodox Church in Brockton and its surrounding communities.
At the Annunciation, we conduct the full cycle of Sunday services, commencing with Great Vespers on Saturday evenings through Orthros (Matins) and the Divine Liturgy on Sunday mornings. Throughout the liturgical year, we also celebrate the feasts of our Lord and the Theotokos (Mother of God), as well as the feasts of all major saints of the Church. From fall through spring, Small Vespers are also celebrated on most Wednesdays nights, with adult religious education sessions following the service.
We welcome all to worship with us, whether you are visiting the area or live locally. May God bless you!
†Fr. Anthony Evangelatos
Presbyter
---
Upcoming Services and Events
Great Vespers
Oct 22 6 pm
6th Sunday of Luke - St. James the Apostle Divine Liturgy
Oct 23 10 am
Great Vespers of St. Demetrios
Oct 25 7 pm
St. Demetrios Church - Fall River, MA
St. Demetrios the Myrrh-Streamer Divine Liturgy
Oct 26 10 am
No Vespers or Class today
Oct 26 7 pm
Annunciation Spotlight
100th Anniversary Gala Celebration!
Join us on Saturday, November 5, 2016 for the formal celebration in honor of the 100th Anniversary of the Annunciation Greek Orthodox Church of Brockton, MA!
The Shaw's Center
1 Feinberg Way
Brockton, MA
Please call the Church office to reserve your tickets!
---

June 19-26, 2016. See the official documents, news, photos, video, and more »
---
Fr. Anthony's October 2016 Message
Beloved in Christ,
Each year our holy Orthodox Church celebrates the memory of St. Romanos the Melodist on October 1st. Additionally, our holy Archdiocese annually proclaims the first Sunday after his feast as "Church Music Sunday," in order to both honor and express gratitude to all our church musicians for their ongoing service and dedication. Remembering both these events calls to mind the importance of sacred liturgical music in the Orthodox tradition, for without hymns and sacred chant our divine services would be reduced to petitions, prayers, and dry rituals. If liturgical music were to cease to exist, we would not be able to fully and properly worship our Triune God, which would also be the case regarding liturgical gestures, rituals, processions, as well as the presence of holy icons and the profuse use of incense in our services.
When reflecting on Orthodox liturgical music, it is important to distinguish this genre of religious music from that of other Christian traditions. Orthodox hymns are not "feel good" melodies that speak of God and our relationship with Him in a general or simplistic way. One major difference is that Orthodox hymns are didactic; in other words, they teach us about the great mysteries of our faith. For example, the hymns of Saturday evening Vespers and Sunday Orthros teach us the meaning and significance of the death and resurrection of Christ, as well as their impact on our lives.
When we study the hymns honoring the holy Theotokos, we are taught about the mystery of the incarnation of Christ, about humility and spiritual obedience, as well as being reminded of her anguish viewing the crucifixion and death of her Son and our God. The hymns honoring the saints are replete with teachings of Christian virtues, and in the case of the holy martyrs, we are presented with the ultimate sacrifice of dying for one's faith in Christ.
Each major feast day of Christ and the Theotokos has two main festal hymns, known as the apolytikion and kontakion. These hymns summarize the theological truths of these events, always pointing toward our salvation in Christ. One very straightforward example of such a hymn is that of holy Pascha – Christos Anesti – which with a few simple words truly summarizes the entire meaning of Pascha!
In addition to the importance of Orthodox hymns as a vehicle for teaching the faith, let us also consider the obvious – that singing is a natural part of human life. It is a way of expressing oneself more deeply than with just the spoken word. When one sings, inner feelings and emotions are expressed beyond what the words themselves can achieve upon speaking or reading them.
Singing is brought to its highest level when applied to the worship of God. Orthodox liturgical music most definitely achieves this goal.
Another important aspect of liturgical music is its sheer beauty, and its ability to touch us deep in our soul. In fact, the goal of Orthodox liturgical worship is to bring together heaven and earth within the sacred space of our holy temples. This deeply spiritual experience is created through various sensory elements: 1) the visual – holy icons, church architecture, sacred vestments and liturgical adornments; 2) the sense of smell – incense, beeswax, rosewater, aromatic oils, flowers, etc; 3) feeling – venerating icons and sacred objects, receiving Holy Communion and antidoron, being sprinkled with holy water and anoint-ed with holy oil; 4) taste – the sweetness of Holy Communion, and the flavor of antidoron, blessed artos, and kollyva; and 5) hearing – priestly petitions and prayers, chanting, the reading of psalms, and the intoning of the epistle and gospel.
In my humble opinion, I would venture to say that liturgical music is what has the greatest influence on our souls during worship. Music in general has a way of evoking emotion from deep within us. If we were to consider the soul-stirring hymns of Great Lent and Holy Week, I'm sure we would all agree on their power to touch our souls in a profound manner.
Those of us who are "cradle" Orthodox may sometimes take some or all of these sensory stimuli for granted. Therefore, after reading this article, the next time you attend church make it a point to focus on how our whole being is involved in worship. Look around the church at the holy icons which bring the Kingdom of Heaven before us. Notice the fragrance of the incense which reminds us of the sweet and divine presence of the Holy Spirit during worship. Pay close attention to the icons you venerate instead of approaching them robotically, as well as anything else with which you come in contact. When receiving Holy Communion, prayerfully focus on what it is that you are receiving, so that the sweetness of the Communion will solidify your experience of communing with the Living God. And lastly, truly and prayerfully listen to the sacred hymns, petitions, prayers and Scriptural readings, so that they do not remain only in your mind, but instead, also enter deep into your heart and soul.
With a renewed spirit of worship, we can all truly appreciate on a deeper level, that which our holy Orthodox Church has handed down to us through the ages. And more importantly, focused and prayerful worship will prepare us for eternal life, where we will experience the perpetual chanting of the angelic host before the throne of the Most High!
In Christ's love,
†Fr. Anthony
---
Church Services Hours
Sundays:
Orthros at 8:45 am; Divine Liturgy at 10:00 am
Weekdays:
Orthros at 9:00 am; Divine Liturgy at 10:00 am
Great Vespers:
Saturdays at 6:00 pm
---
Online Bill Pay
The Annunciation Church offers an online bill pay service for the convenience of our parishioners. Click on the links below to fulfill your Stewardship or make other payments by credit card.
Donations (in memory of, floral, other)
---
Contact Information
Annunciation Greek Orthodox Church
457 Oak Street
Brockton, MA 02301
508-559-0910
Directions:
From Route 24 take Exit 18B (Route 27 North - Stoughton).
At lights take a right on to Pearl Street.
At second set of lights take a right on to Oak Street.
Drive 1 mile. The church is on the left. Welcome!
Office hours:
Monday, Wednesday and Friday from 10:00 am to 2:00 pm
Tuesday and Thursday from 9:00 am to 1:00 pm
Rev. Fr. Anthony Evangelatos - Presiding Priest
priest@annunciationbrockton.org
Office - office@annunciationbrockton.org
Join the Annunciation Church - Brockton E-mail List »
For questions or comments concerning this web site please contact the Webmaster at
helpdesk@annunciationbrockton.org
Online Chapel