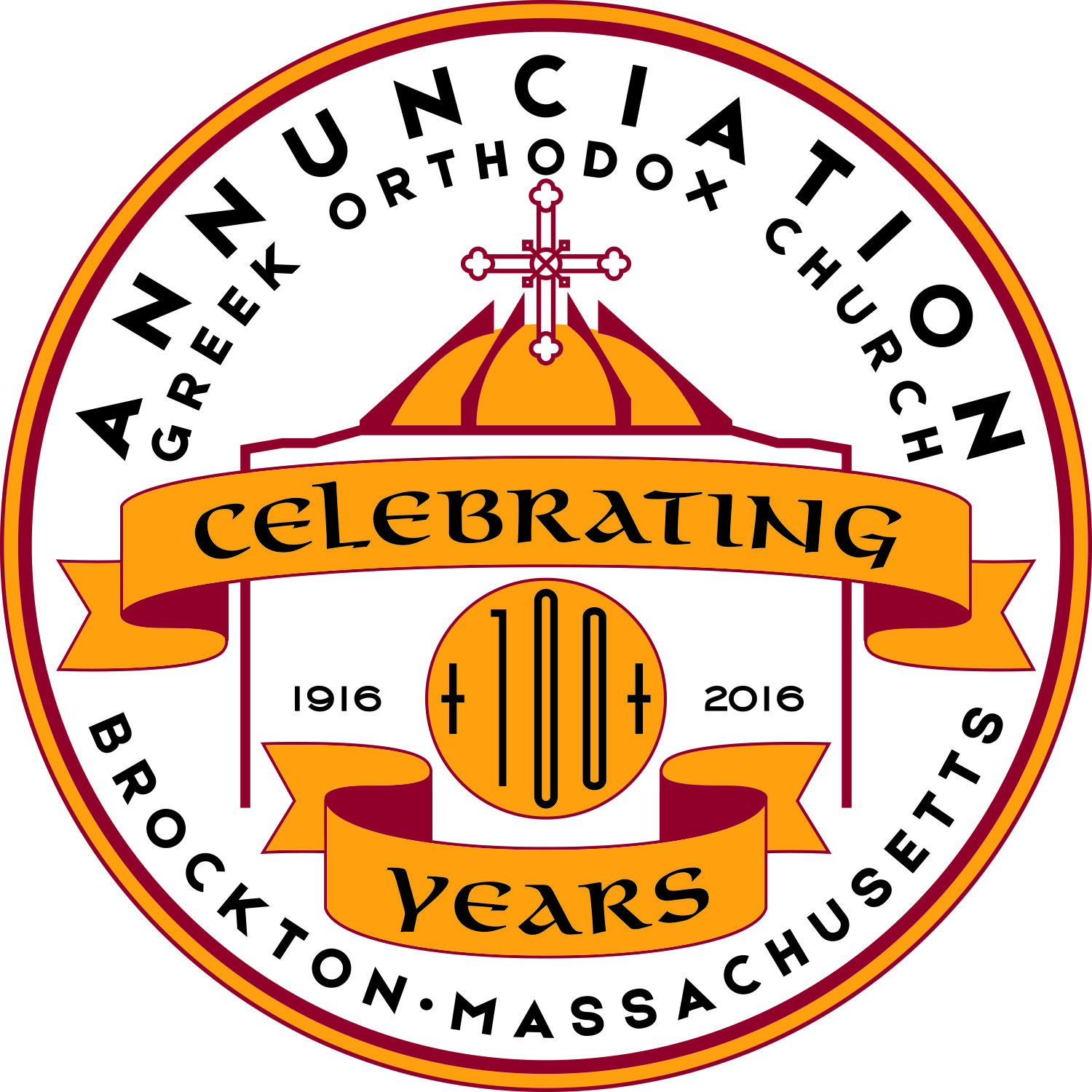 Beloved brothers and sisters in Christ,
Christ is in our midst!
Welcome to the website of the Annunciation Greek Orthodox Church of Brockton, MA. The Annunciation is within the Metropolis of Boston, which is part of the Greek Orthodox Archdiocese of America – one of the daughter Churches of the Ecumenical Patriarchate of Constantinople. The Church of the Annunciation is the only Eastern Orthodox Church in Brockton and its surrounding communities.
At the Annunciation, we conduct the full cycle of Sunday services, commencing with Great Vespers on Saturday evenings through Orthros (Matins) and the Divine Liturgy on Sunday mornings. Throughout the liturgical year, we also celebrate the feasts of our Lord and the Theotokos (Mother of God), as well as the feasts of all major saints of the Church. From fall through spring, Small Vespers are also celebrated on most Wednesdays nights, with adult religious education sessions following the service.
We welcome all to worship with us, whether you are visiting the area or live locally. May God bless you!
†Fr. Anthony Evangelatos
Presbyter
---
Upcoming Services and Events
St. Paraskevi the Martyr Divine Liturgy
Jul 26 10 am
Festival Committee Meeting & product tasting
Jul 27 6:30 pm
Great Vespers
Jul 30 6 pm
6th Sunday of Matthew Divine Liturgy
Jul 31 9:45 am
Annunciation Spotlight

June 19-26, 2016. See the official documents, news, photos, video, and more »
---
Greek Festival 2016
Mark your calendars...preparations for Greek Festival 2016 are already well underway!
Join us from Thursday, September 15 through Sunday, September 18 for the premier Greek Festival on the South Shore!
Next Greek Festival Committee meeting: Wednesday, July 27 at 6:30 pm. Everyone who volunteers at the Festival is encouraged to attend as we will be making final arrangements for buying product, discussing equipment needs as well as finalizing menu items and prices. We will also be testing new products in the kitchen for everyone to sample and offer their comments.
---
Fr. Anthony's July - August 2016 Message (reprinted from July - August 2009)
In our holy Orthodox Church we have many titles for the Theotokos, all of which seek to describe her unique role as the Mother of God, her intercessory power, as well as her relationship to mankind. One title that could also be ascribed to her is, First of All God's Stewards. I say this because if we were to contemplate her role in general, we would see how she truly fulfills the role of God's chief steward in the most exemplary way. We on earth should therefore see her as our prime example in the execution of our own stewardship role in creation, and in God's holy Church.
In order to understand the Theotokos' stewardship role fully, we must clearly define the word steward in terms of the Church's understanding. A steward is one who is in charge of what God has given him, i.e. a custodian or manager. In the life of the Holy Theotokos, she obviously became the earthly steward of what God gave to her, and through her, to all mankind – His only-begotten Son. She became the steward of Life Himself, since she carried the Creator in her womb and then raised Him as her own son.
During the earthly life of Christ, His holy Mother continued her stewardship role by being a faithful follower of her son through the end of His earthly existence. The tradition of the Church tells us that the loving Mother of the God-Man, kept vigil with Him at the Cross and ministered at His burial. She lovingly accept-ed the beloved Disciple John as a son, as instructed by the Lord Himself from the Cross. We are told that she ministered to all His Disciples after His Resurrection, seeing herself as a steward of those who were an extension of her son. Holy Tradition also teaches that she was with them in the upper room, when the Holy Spirit descended upon them on the day of Pentecost.
After her own dormition and assumption into heaven, she continues to be a faithful steward of her son's inheritance – the human race. Being the Mother of God, by extension she is also the Mother of all mankind, since we were given life by her son and our God. In this role, she continuously cares for, and protects all of us who call upon her in fervent prayer, constantly interceding before the throne of God on our behalf. Countless miracles occur throughout the Orthodox world as the Theotokos comes to our aid in times of illness, and in all types of danger.
Thus, we clearly see how our Panayia continues to be God's greatest steward. Now, let us look at ourselves in terms of our own stewardship role in creation. How do we manage the life that God has given us? Are we thankful every day through prayer for being alive and enjoying good health? Do we seek to care for those around us as needed, since we are all children of the same God? Do we respect and care for the environ-ment as stewards of the world that God created for us?
As stewards of His holy Church, do we seek to give back to God from the gifts He has given us? Our time, talent, and treasure are all aspects of the gift of life which we enjoy each day. Since God always comes first in our lives, it is only logical and appropriate that we consider His holy Church on earth as the center of our life. As faithful stewards, let us not neglect the Church through our absence from worship services, through our unwillingness to assist in any way we can, and through the neglect of our financial obligation to keep our local parish viable. Many of us are regular contributors, however, let us examine whether our gift is truly realistic and generous, and not just a token contribution as if we were paying "membership dues" to a club, as opposed to a gift of love. After all, this is what stewardship is all about – lovingly taking care of, and giving back to God what He lovingly provides to us. We can only understand this when we have deep faith and trust in God.
When the Archangel Gabriel announced to the Theotokos that the Son of God would be conceived in her womb, she did not run away in fear, or say, "let me think about it." Due to her own faith and trust in God, she was immediately decisive, ignoring any of the possible consequences by her acceptance of the heavenly message. Her response was based on spirituality and not worldliness. Let us take from her holy example and be guided spiritually in everything we do. May we all be blessed and made worthy to hear the following words from our Lord when we leave this world: Well done good and faithful servant; you were faithful over a few things, I will make you ruler over many things. Enter into the joy of your Lord. (Mt 25:21).
In Christ's love,
†Fr. Anthony
---
Church Services Hours
Sundays:
Orthros at 8:30 am; Divine Liturgy at 9:45 am
Weekdays:
Orthros at 9:00 am; Divine Liturgy at 10:00 am
Great Vespers:
Saturdays at 6:00 pm
---
Online Bill Pay
The Annunciation Church offers an online bill pay service for the convenience of our parishioners. Click on the links below to fulfill your Stewardship or make other payments by credit card.
Donations (in memory of, floral, other)
---
Contact Information
Annunciation Greek Orthodox Church
457 Oak Street
Brockton, MA 02301
508-559-0910
Directions:
From Route 24 take Exit 18B (Route 27 North - Stoughton).
At lights take a right on to Pearl Street.
At second set of lights take a right on to Oak Street.
Drive 1 mile. The church is on the left. Welcome!
Office hours:
Monday, Wednesday and Friday from 10:00 am to 2:00 pm
Tuesday and Thursday from 9:00 am to 1:00 pm
Rev. Fr. Anthony Evangelatos - Presiding Priest
priest@annunciationbrockton.org
Office - office@annunciationbrockton.org
Join the Annunciation Church - Brockton E-mail List »
For questions or comments concerning this web site please contact the Webmaster at
helpdesk@annunciationbrockton.org
Online Chapel