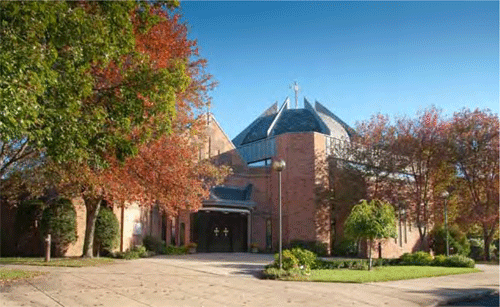 Beloved brothers and sisters in Christ,
Christ is in our midst!
Welcome to the website of the Annunciation Greek Orthodox Church of Brockton, MA. The Annunciation is within the Metropolis of Boston, which is part of the Greek Orthodox Archdiocese of America – one of the daughter Churches of the Ecumenical Patriarchate of Constantinople. The Church of the Annunciation is the only Eastern Orthodox Church in Brockton and its surrounding communities.
At the Annunciation, we conduct the full cycle of Sunday services, commencing with Orthros (Matins) and the Divine Liturgy on Sunday mornings. Throughout the liturgical year, we also celebrate the feasts of our Lord and the Theotokos (Mother of God), as well as the feasts of all major saints of the Church. From fall through spring, Small Vespers are also celebrated on most Wednesdays nights, with adult religious education sessions following the service.
We welcome all to worship with us, whether you are visiting the area or live locally. May God bless you!
---
Upcoming Services and Events
ORTHODOXY 101
Jan 17 7 pm
Sts. Athanasios & Cyril Divine Liturgy
Jan 18 10 am
12th Sunday of Luke Divine Liturgy
Jan 20 10 am
HOPE/JOY Game Night
Jan 25 6 pm
Annunciation Spotlight
---
Fr. Michael's December 2018 Message
Christmas 2018
"And she gave birth to her first born, a son. She wrapped him in cloths and placed him in a manger, because there was no room for them in the inn". (Luke 2:7)
Christ is Born Glorify Him!!
Beloved in Christ,
Today we glorify Christ our Lord on this Holy and joyous Christmas. We thank Him for the Blessings that He has revealed and has given to us out of His love for us. We glorify His Holy Name and give thanksgiving to Him for taking human flesh and entering our lives for the purpose of granting us salvation. We glorify God because our Savior has delivered us from the darkness and we now live in His Light; we now negotiate all the days our lives in the brilliance of the Nativity Star.
It is in this Holy and Spiritual setting we worship the Birth of Christ in our Churches and in our homes. We will once again find the warmth of Christ, which calms our souls and takes away the fears of the secular and pluralistic society that we live in. Today, the Son of God has come and illuminates all of His Creation.
All things are transformed my, Spiritual Children, during the Christmas Season, we witness the grand transformation into the Feast of the Nativity. Observe all things around you, all of our senses are transformed. We see this transfor-mation on our television sets, we observe it on social media, we hear the sounds of the Season on our radios, we see the transformation to the Season of joy in printed media. We are immersed in the simple hustle and bustle of this Season of our Savior. The singing and laughter that we experience reflects that one Holy Star which opens a new road, a road that cuts across the heavens and leads us to the Holy City of Bethlehem.
Let us become a participant of a world where night turns into day, a world in which homes become brighter by the virtue of the Christmas joy, a world where hands are filled with presents and hearts are filled with love. A world where Christmas trees that are chilled by winter's cold await to enter our homes and that joins us as we bow before the Christ Child to receive His Blessed smile.
Allow the Christ Child, this Holy and Blessed Nativity Season to transforms us all. Welcome the Grace of God as He enters your life and be transformed joyfully. Gather around the Christmas tree, open your gifts as an Orthodox Christian Family and embrace this Holy Season. Sit at the Christmas table and partake with love and thanksgiving the glorious bounty which comes from above.
My Beloved, Presvytera Cyndy and I extend our love to you and yours and wish you a Blessed Christmas and a Fruitful and Healthy New Year.
In His Love,
+Father Michael
---
Church Services Hours
Sundays:
Orthros at 8:45 am; Divine Liturgy at 10:00 am
Weekdays:
Orthros at 9:00 am; Divine Liturgy at 10:00 am
---
Online Bill Pay
The Annunciation Church offers an online bill pay service for the convenience of our parishioners. Click on the links below to fulfill your Stewardship or make other payments by credit card.
Donations (in memory of, floral, other)
---
Contact Information
Annunciation Greek Orthodox Church
457 Oak Street
Brockton, MA 02301
508-559-0910
Rev. Protopresbyter Michael A. Kouremetis
Telephone: 508-559-0911
Email: FrMichael@annunciationbrockton.org
Directions:
From Route 24 take Exit 18B (Route 27 North - Stoughton).
At lights take a right on to Pearl Street.
At second set of lights take a right on to Oak Street.
Drive 1 mile. The church is on the left. Welcome!
Office hours:
Monday through Friday from 9:00 am to 2:00 pm
Telephone: 508-559-0910
Email: office@annunciationbrockton.org
Click to join the Annunciation Church - Brockton E-mail List »
For questions or comments concerning this web site please contact the Webmaster at
helpdesk@annunciationbrockton.org
Online Chapel