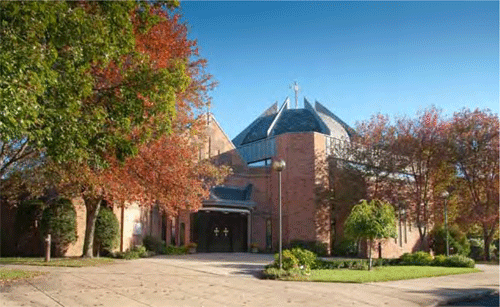 Beloved brothers and sisters in Christ,
Christ is in our midst!
Welcome to the website of the Annunciation Greek Orthodox Church of Brockton, MA. The Annunciation is within the Metropolis of Boston, which is part of the Greek Orthodox Archdiocese of America – one of the daughter Churches of the Ecumenical Patriarchate of Constantinople. The Church of the Annunciation is the only Eastern Orthodox Church in Brockton and its surrounding communities.
At the Annunciation, we conduct the full cycle of Sunday services, commencing with Great Vespers on Saturday evenings through Orthros (Matins) and the Divine Liturgy on Sunday mornings. Throughout the liturgical year, we also celebrate the feasts of our Lord and the Theotokos (Mother of God), as well as the feasts of all major saints of the Church. From fall through spring, Small Vespers are also celebrated on most Wednesdays nights, with adult religious education sessions following the service.
We welcome all to worship with us, whether you are visiting the area or live locally. May God bless you!
†Fr. Anthony Evangelatos
Presbyter
---
Upcoming Services and Events
Presanctified Liturgy
Mar 24 10 am
Great Vespers of the Annunciation with Salutations to the Theotokos
Mar 24 7 pm
Annunciation of the Theotokos Divine Liturgy
Mar 25 10 am
Greek School Greek Independence Day Program (following the Liturgy)
Mar 25 11:30 am
Great Vespers
Mar 25 6 pm
Annunciation Spotlight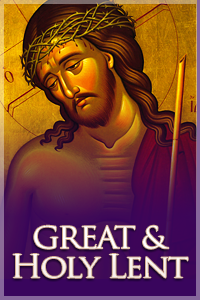 ---

Annunciation Vespers
Friday, March 24, 2017 at 7:00 pm
Officiated by His Eminence Metropolitan Methodios
Followed by a reception hosted by Philoptochos
---

June 19-26, 2016. See the official documents, news, photos, video, and more »
---
Fr. Anthony's March 2017 Message
Beloved in Christ,
Last month I wrote about preparing for Great Lent during the first three weeks of the Triodion. My emphasis was on spiritual and physical preparation by heeding the themes presented in the Gospel, and by easing into the strictness of the Fast during the week preceding Lent. So now we have entered the saving and grace-filled Holy and Great Lent. Now is the time we begin the true spiritual and physical work toward our spiritual renewal and joyous celebration of Holy Pascha next month. This can only be accomplished through that which the Church offers us for our spiritual growth during this holy season.
The one question we should first ask ourselves is how much have we actually experienced Great Lent in the past? From a liturgical standpoint, as I've mentioned many times, simply attending church on the Sundays of the Fast does not truly expose one to Lenten worship. The only differences on the Sundays of Lent are certain hymns added during Orthros, and the celebration of the liturgy of St. Basil instead of that of St. John Chrysostom. The liturgical heart of Great Lent lies in its weekday services.
Each Sunday evening of Lent, a service is celebrated known as the Vespers of Contrition or Compunction (Katanyktikos Esperinos). This service is not typically done in most parishes, however here, I always celebrate the first one on Forgiveness Sunday, the day before Clean Monday. This service is the weekly transition into the more somber and penitential liturgical mood of Great Lent. In Rhode Island, our pan-Orthodox clergy brotherhood celebrates this service each Sunday afternoon of Lent at a different parish (if anyone is interested in attending, please ask me for details).
The two main Lenten services that are celebrated during the week are the Great Compline, which I conduct each Monday evening, and the Liturgy of the Presanctified Gifts, which is celebrated each Wednesday afternoon and Friday morning. Only by attending these services would an Orthodox Christian experience the somber and contrite nature of Lenten worship.
Another very familiar Lenten service to Orthodox Christians is the Akathist Hymn to the Theotokos, which is divided into four sections chanted on the first four Friday evenings, and then in its entirety on the fifth Friday. Although not Lenten in their style and structure, these services have for centuries been part of the Lenten cycle of services. It is only logical that we call upon the Theotokos most fervently for her aid during our spiritual journey through Great Lent.
Now that I have reminded everyone of the liturgical structure of Lent, let us move to the subject of fasting. An important reminder must be made at this point that fasting cannot, and should not be practiced without adding increased prayer and charitable works to our Lenten struggle. Solely following the dietary rules of the Lenten fast will be meaningless, and can even be frustrating if not combined with other spiritual disciplines. Fasting, along with prayer and good works will lead us toward repentance, the main fruit of our Lenten askesis (spiritual exercise).
It is also important to understand the true meaning and reason for fasting. Here I refer you to articles which I have included in past bulletins that speak to this, specifically, one by Metropolitan Kallistos Ware titled The True Nature of Fasting, from the March, 2015 issue. Go to our website and search other prior year bulletins, both February and March issues and you will find much edifying material regarding Great Lent for your benefit.
Increased prayer during Lent means both in our personal lives as well as communally in church. In the Orthodox spiritual tradition, daily private prayer is part and parcel of the life of an Orthodox Christian, and even more so during Lent. In addition, it has always been the expectation of the Church that we attend services more frequently during Lent. Of course, this presupposes that all forms of entertainment are set aside throughout this holy period.
Charitable works during Lent go without saying (review the gospel reading of the Sunday of the Last Judgment as a reminder: Mt 25:31-46). Although this should continually be part of our lives as Orthodox Christians, this time of year more than ever is when charitable works are emphasized. Obviously, this could be anything from financial donations to volunteering one's time and talents to an organization, or on a more personal level. For parents, there is no better example of being a true Christian to their children. These lessons will stay with them their entire life.
At this point in my article some may be thinking, "Fr. Anthony, you are asking too much of us… We have so much going on that we can't attend church more than Sundays… Fasting is difficult, we just can't do all that…" etc., etc. This is when we should remind ourselves that our Church is asking these things of us for our spiritual benefit and growth, as we work toward salvation in Christ. Most of us don't enjoy going to the doctor, only to be told that we need to change our diet and lifestyle if we want to be healthy and live a long life. Knowing the ramifications of not following these guidelines, prudent patients strive to comply as best as possible.
The Church realizes that not everyone can be at every service; that we cannot always uphold a strict fast for many weeks, especially if there are health issues; that we may not have sufficient income to be as charitable as we would like, nor have enough extra time to volunteer our services. Of course, this doesn't mean that we should simply ignore all of this without trying to improve where improvement is needed. Those of us raising children lovingly encourage them to try their best in their academic endeavors, and to not settle for less. Our physicians strongly encourage us to improve our health out of concern for our physical well-being. Christ through His Church, continually loves us and shows us His unending mercy and forgiveness for which we are never worthy. Let us therefore do our part in order to store up eternal treasure for the Kingdom of Heaven.
With Christ's love for a blessed Lent,
†Fr. Anthony
---
Church Services Hours
Sundays:
Orthros at 8:45 am; Divine Liturgy at 10:00 am
Weekdays:
Orthros at 9:00 am; Divine Liturgy at 10:00 am
Great Vespers:
Saturdays at 6:00 pm
---
Online Bill Pay
The Annunciation Church offers an online bill pay service for the convenience of our parishioners. Click on the links below to fulfill your Stewardship or make other payments by credit card.
Donations (in memory of, floral, other)
---
Contact Information
Annunciation Greek Orthodox Church
457 Oak Street
Brockton, MA 02301
508-559-0910
Directions:
From Route 24 take Exit 18B (Route 27 North - Stoughton).
At lights take a right on to Pearl Street.
At second set of lights take a right on to Oak Street.
Drive 1 mile. The church is on the left. Welcome!
Office hours:
Monday, Wednesday and Friday from 10:00 am to 2:00 pm
Tuesday and Thursday from 9:00 am to 1:00 pm
Rev. Fr. Anthony Evangelatos - Presiding Priest
priest@annunciationbrockton.org
Office - office@annunciationbrockton.org
Join the Annunciation Church - Brockton E-mail List »
For questions or comments concerning this web site please contact the Webmaster at
helpdesk@annunciationbrockton.org
Online Chapel