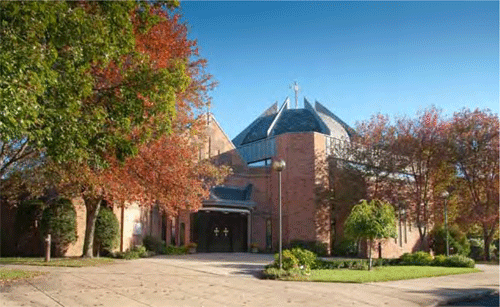 Beloved brothers and sisters in Christ,
Christ is in our midst!
Welcome to the website of the Annunciation Greek Orthodox Church of Brockton, MA. The Annunciation is within the Metropolis of Boston, which is part of the Greek Orthodox Archdiocese of America – one of the daughter Churches of the Ecumenical Patriarchate of Constantinople. The Church of the Annunciation is the only Eastern Orthodox Church in Brockton and its surrounding communities.
At the Annunciation, we conduct the full cycle of Sunday services, commencing with Great Vespers on Saturday evenings through Orthros (Matins) and the Divine Liturgy on Sunday mornings. Throughout the liturgical year, we also celebrate the feasts of our Lord and the Theotokos (Mother of God), as well as the feasts of all major saints of the Church. From fall through spring, Small Vespers are also celebrated on most Wednesdays nights, with adult religious education sessions following the service.
We welcome all to worship with us, whether you are visiting the area or live locally. May God bless you!
†Fr. Anthony Evangelatos
Presbyter
---
Upcoming Services and Events
1st Sunday of Luke Divine Liturgy
Sep 24 10 am
Great Vespers
Sep 30 6 pm
Divine Liturgy
Oct 1 10 am
Small Vespers followed by Adult Religious Education
Oct 4 7 pm
Annunciation Spotlight

Thank you to all our wonderful patrons and volunteers for helping make GREEK FESTIVAL 2017 the best ever!
---
Theophany School
The Theophany School of Needham, MA, an Orthodox Preschool, Pre-k and Kindergarten school, is accepting applications for enrollment for fall enrollment.
Download the 2017-2018 Application for Admission»
---

June 19-26, 2016. See the official documents, news, photos, video, and more »
---
Fr. Anthony's September 2017 Message
(The following is a revised article from the September 2009 edition.)
Beloved in Christ,
Each September we make mention, in one way or another, of the beginning of the new ecclesiastical year on September 1st – the Church's "New Year's Day," if you will. Many parish priests use this opportunity to remind their flock of the importance of centering one's life around the Church; in other words, making Christ central in our lives. Priests will speak of the importance of regular church attendance – not the "hit or miss" approach. We will also bring to mind the importance and great blessing of celebrating the great feast days of the Church – the feasts of our Lord and the Theotokos, as well as the feasts of many great saints and martyrs of our Church celebrated throughout the liturgical year. Yes, perhaps it is getting old and tiresome for some of us to hear these reminders. However, it really is no different than our physicians constantly reminding us of important issues concerning our health and well-being – losing weight, exercising more, eating nutritious and balanced meals, stopping smoking, drinking in moderation, etc., etc. They tell us these things because they truly care about seeing us stay healthy. How much more than does the hospital of the soul – the Church of Christ – care about our complete well-being, starting with the soul?
This new ecclesiastical year, let us all try to become healthier in the soul through the life of the Church. To do this, we must first prioritize the health of the soul over the body. Those who are body work-out fanatics wouldn't even consider missing a day at the gym, unless it was beyond their control. This is the approach an Orthodox Christian should have toward church attendance on all Sundays and the major feasts days.
Regarding church attendance on the major feast days, obviously many cannot because of work or school obligations. Let us remember, however, that we usually celebrate the vespers of great feasts of the Lord and Theotokos on the prior evening, thereby giving students and workers the opportunity to participate in each feast to some extent.
Some of us state that we cannot come to church on Sundays because we work. Some work every Sunday, so I suggest to those who do, as much as possible, to attend Saturday evening vespers in order not to live completely devoid of the liturgical life. These brethren could also watch the calendar closely for weekday liturgies on their days off that they could attend, as well as weekday vesper services and other evening services held periodically, such as during Great Lent. Some state that they don't work every Sunday, so the question must be asked: where are we on the Sundays we don't work?
Regarding our children involved with sports on Sunday mornings, here it is the parents' responsibility to set priorities in the home. Now many will remark, "what's so wrong with sports?" The point is that there is nothing wrong with healthy competition and exercise of the body through sports. The problem is that the secular world does not consider people's faith convictions and their Sunday obligations. Why not try to guide our children to sporting activities that only occur on Saturdays, or at least Sunday afternoons? Why do we give in to our children's requests that interfere with Sunday church attendance? Remember, when raising children, it is not all about pleasing them 100% of the time. Consider this: when our children become adults and perhaps married and raising their own children, having played sports on Sunday will not have been that which hopefully shaped them into Christ-centered human beings, who will definitely raise their children in the Church. If we consistently bring them to church and keep the faith alive in the home, then we will have planted the correct seeds that will remain in them throughout their lives.
Regarding sporadic or almost non-existent church attendance in general, many will say that even though they don't come to church often, they "haven't forgotten about God;" that they "can pray to God anytime and anywhere;" that they "don't need to come to church to be close to God," among many other justifications. Here we must remind ourselves that we are Orthodox Christians, who by definition do not espouse individualism and personalized theology with no accountability to the Body of Christ – the Church. Even though personal prayer throughout each day is an integral part of our spiritual lives, it cannot replace the liturgical worship experience. Our obligation as members of the Body of Christ, is to gather in worship of the living God on all Sundays (with the exception of illness, mandatory work obligations, and other such hardships), as well as major feast days, as much as possible. We should seek sanctification and unity with God and one another, through frequent receipt of the holy mystery of the Eucharist, which is only possible by being part of the worshipping community of believers gathered in church.
In his book, Liturgy and Life, by Fr. Alexander Schmemann of blessed memory (Orthodox Church in America, 1983), says the following regarding Orthodox worship:
The Church as life and grace is realized through her worship. The Greek word for worship – 'leiturgia' – means more than common prayer: it means corporate action, in which everyone takes an active part, is a participant and not only an 'attendant.' The nature of this action is both corporate and personal. It is corporate because through the unity and faith of its participants it realizes and fulfills the reality of Church, i.e. the presence of Christ among those who believe in Him. It is personal because this reality is every time conveyed to me, given me for my personal edification, for my own growth in grace. Thus in worship I am both an active 'builder' of the Church – and to be this is my Christian duty – and I am also its 'beneficiary' – for the whole of the Church's treasure is offered to me, is a Divine gift to me.
Beloved in Christ, please accept all the above as a loving invitation into the life of grace and spiritual fulfillment in Christ, and not as an admonition. We can leave our doctor's office upset after hearing his words of warning, but the reality is that the future health of our body remains questionable at best. May we begin the new ecclesiastical year on a positive note by being honest with ourselves, seeking to continually grow in Christ. With our eternal destiny directly affected by our life in the Church, one should clearly see the priority of the matter at hand!
In Christ's love,
†Fr. Anthony
---
Church Services Hours
Sundays:
Orthros at 8:30 am; Divine Liturgy at 9:45 am
Weekdays:
Orthros at 9:00 am; Divine Liturgy at 10:00 am
Great Vespers:
Saturdays at 6:00 pm
---
Online Bill Pay
The Annunciation Church offers an online bill pay service for the convenience of our parishioners. Click on the links below to fulfill your Stewardship or make other payments by credit card.
Donations (in memory of, floral, other)
---
Contact Information
Annunciation Greek Orthodox Church
457 Oak Street
Brockton, MA 02301
508-559-0910
Directions:
From Route 24 take Exit 18B (Route 27 North - Stoughton).
At lights take a right on to Pearl Street.
At second set of lights take a right on to Oak Street.
Drive 1 mile. The church is on the left. Welcome!
Office hours:
Monday, Wednesday and Friday from 10:00 am to 2:00 pm
Tuesday and Thursday from 9:00 am to 1:00 pm
Rev. Fr. Anthony Evangelatos - Presiding Priest
priest@annunciationbrockton.org
Office - office@annunciationbrockton.org
Join the Annunciation Church - Brockton E-mail List »
For questions or comments concerning this web site please contact the Webmaster at
helpdesk@annunciationbrockton.org
Online Chapel