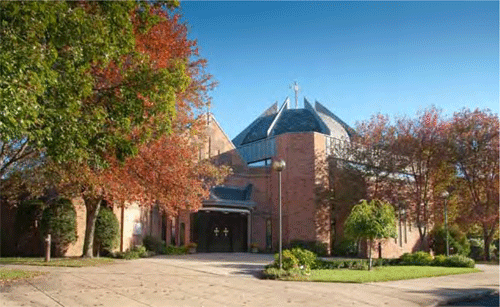 Beloved brothers and sisters in Christ,
Christ is in our midst!
Welcome to the website of the Annunciation Greek Orthodox Church of Brockton, MA. The Annunciation is within the Metropolis of Boston, which is part of the Greek Orthodox Archdiocese of America – one of the daughter Churches of the Ecumenical Patriarchate of Constantinople. The Church of the Annunciation is the only Eastern Orthodox Church in Brockton and its surrounding communities.
At the Annunciation, we conduct the full cycle of Sunday services, commencing with Great Vespers on Saturday evenings through Orthros (Matins) and the Divine Liturgy on Sunday mornings. Throughout the liturgical year, we also celebrate the feasts of our Lord and the Theotokos (Mother of God), as well as the feasts of all major saints of the Church. From fall through spring, Small Vespers are also celebrated on most Wednesdays nights, with adult religious education sessions following the service.
We welcome all to worship with us, whether you are visiting the area or live locally. May God bless you!
---
Upcoming Services and Events
Saturday of the Souls Divine Liturgy
May 26 10 am
Holy Pentecost Divine Liturgy
May 27 10 am
Monday of the Holy Spirit Divine Liturgy
May 28 9 am
Fr. Michael Trisagion at Melrose Cemetery
May 28 11 am
Annunciation Spotlight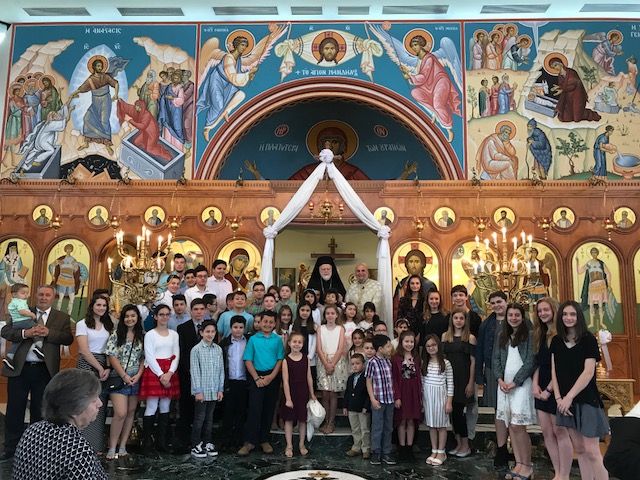 ---
Annunciation Brockton's Got Talent!
The Parish Council presents a non-competative Talent Show - Saturday, October 27, 2018
This will be a fun event for fellowship within our community. There will be no judging and everyone is welcome to be a part of it!
Please fill out the attached form. The first meeting will be on Saturday, April 21, 2018
Click here to download the flyer and application form »
---

June 19-26, 2016. See the official documents, news, photos, video, and more »
---
Fr. Michael's May 2018 Message
Beloved In Christ,
Χριστός Ανέστη!
In the love of our Resurrected Lord and Savior, I greet you.
I give thanks to God for His Blessing by bringing me to this historic and vibrant Parish.
I also thank his Eminence Metropolitan Methodios, the Shepard of our Metropolis, for assigning me as your Proistamenos. His Eminence has given me the Blessed responsibility of being your Spiritual Father.
I have come to the Annunciation Parish to serve and not to be served. I come to preach and teach the Word of the Resurrected Lord and to bring the love and knowledge of Christ. I have come to minister to all the faithful, churched and unchurched and to bring all to the "Chalice of Life".
My beloved Spiritual Children, we will work together, young and old, in harmony, peace and love. We do this for the Glory of God and in the spirit of a "shared ministry".
With the Grace of God, we will continue to grow upon the wisdom and sacrifice of our parents and grandparents and all the visionaries that established this Parish.
We will look for continued leadership and direction from our Parish Council and from all the leaders of our Ministries Team. We thank God for their unconditional strength and example. We ask our Lord for His continued Blessing upon their Diakonia.
The most important ministry to me is our youth. We must care for our youth and encourage their input. We must instill in them the knowledge and importance of Christ. Our children live in a changing society, as we all do, and it is paramount that we give them the tools needed to survive in His Name and remain strong and dedicated Orthodox Christians. We continue praying to God for His continued nurturing of our children's "Christian Talents" so that they will step up, in their time, to be the leaders of this "shared ministry". We must remember, "If you don't hear crying your Church is dying". We must encourage our younger families to come and worship as a family no matter how young their children are.
We are a Church of inclusion not exclusion; we do not reprimand we welcome them.
My beloved in Christ I joyfully anticipate visiting with you all and listening to your dreams and concerns. I anticipate blessing your homes, those who are churched or unchurched and to share with you the Love of God and His Church. I have come to serve you my Spiritual Children and please know that I will be there for your Spiritual needs. I assure you I am a priest you can call at all times. My office door is always open and welcoming.
This is a new chapter in the beautiful history of our Parish, may it be Blessed by His Grace.
Presvytera Cyndy and I look forward to many happy and Blessed years with you as we will become family.
May the Panagia of the Annunciation Bless us all.
Χριστός Ανέστη!
In His Love,
Father Michael
+V. Rev. Michael A. Kouremetis
---
Church Services Hours
Sundays:
Orthros at 8:45 am; Divine Liturgy at 10:00 am
Weekdays:
Orthros at 9:00 am; Divine Liturgy at 10:00 am
Great Vespers:
Saturdays at 6:00 pm
---
Online Bill Pay
The Annunciation Church offers an online bill pay service for the convenience of our parishioners. Click on the links below to fulfill your Stewardship or make other payments by credit card.
Donations (in memory of, floral, other)
---
Contact Information
Annunciation Greek Orthodox Church
457 Oak Street
Brockton, MA 02301
508-559-0910
Rev. Protopresbyter Michael A. Kouremetis
508-559-0911
FrMichael@annunciationbrockton.org
Directions:
From Route 24 take Exit 18B (Route 27 North - Stoughton).
At lights take a right on to Pearl Street.
At second set of lights take a right on to Oak Street.
Drive 1 mile. The church is on the left. Welcome!
Office hours:
Monday, Wednesday and Friday from 10:00 am to 2:00 pm
Tuesday and Thursday from 9:00 am to 1:00 pm
Office - office@annunciationbrockton.org
Join the Annunciation Church - Brockton E-mail List »
For questions or comments concerning this web site please contact the Webmaster at
helpdesk@annunciationbrockton.org
Online Chapel