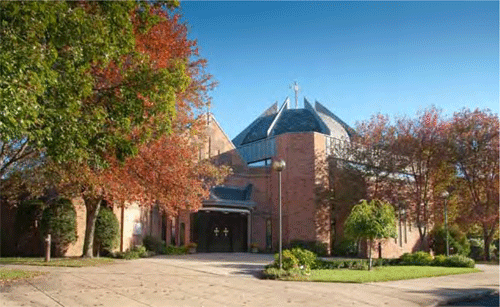 Beloved brothers and sisters in Christ,
Christ is in our midst!
Welcome to the website of the Annunciation Greek Orthodox Church of Brockton, MA. The Annunciation is within the Metropolis of Boston, which is part of the Greek Orthodox Archdiocese of America – one of the daughter Churches of the Ecumenical Patriarchate of Constantinople. The Church of the Annunciation is the only Eastern Orthodox Church in Brockton and its surrounding communities.
At the Annunciation, we conduct the full cycle of Sunday services, commencing with Orthros (Matins) and the Divine Liturgy on Sunday mornings. Throughout the liturgical year, we also celebrate the feasts of our Lord and the Theotokos (Mother of God), as well as the feasts of all major saints of the Church. From fall through spring, Small Vespers are also celebrated on most Wednesdays nights, with adult religious education sessions following the service.
We welcome all to worship with us, whether you are visiting the area or live locally. May God bless you!
---
Upcoming Services and Events
OPA! Gathering
Feb 19 2 pm
Sunday of the Prodigal Son Divine Liturgy
Feb 24 10 am
Have a Heart Luncheon
Feb 24 12 pm
Divine Liturgy
Mar 3 10 am
Annunciation Spotlight
---
Stewardship Luncheon - Sunday, February 10
Join us for a complimentary luncheon where we can come together in Christian Fellowship as we discuss our Parish's Financial Challenges.

In order for the Parish Council to properly prepare for this luncheon we ask that you kindly call the church office to reserve your seat no later than Wednesday,
February 6th, 2019.
---
Have a Heart Luncheon - Sunday, February 24
The Annunciation HOPE & JOY Groups will hold the 21st Annual Have a Heart Luncheon on Sunday, February 24, 2019, immediately following the Divine Liturgy.
Tickets are $25 for adults and $10 for children.
Please call the church office by February 22 for reservations. Tickets will NOT BE AVAILABLE at the door.
All proceeds will go to the Hellenic Cardiac Fund.
---
Fr. Michael's February 2019 Message
The Sunday of the Prodigal Son - Saint Luke's Gospel 15:11-32

My Beloved Spiritual Children,

The parable is the story of a man, his two sons and the journey that the man's foolish younger son takes. The youngest son asks his father to give him what he felt was his inheritance. The father acknowledges the request and soon after the younger son leaves and journeys to a distant and foreign land.

Soon after arriving in this unfamiliar land he squanders all his inheritance in reckless and loose living. At that time a severe famine devastated that country, the young man finds himself in the streets and hungry without anything to sustain him. He was lost so he sought employment and the only work he found was feeding swine for a farmer, but this did very little to help his situation. We read in the parable that, "He would gladly have filled his stomach with the pods that the swine ate, but no one gave him anything".

He realized that his father's hired servants have enough to eat and plenty food to spare, while he surrenders to hunger. He proclaimed that he would go to his father and tell him, "Father, I have sinned against heaven and before you, and I am no longer worthy to be called your son" he would plead with his father to accept him as one of his hired servants. He then arose and returned to his father's home.

As he approached his father's house, his father saw him at a distance and had compassion on him. He ran to meet him, embraced him and welcomed his son. The son admitted his sinful living and told his father that he was unworthy to be called his son. Out of joy for the return of his son, the father called his servants and told them to bring his finest robe and place it on his son, to place a ring for his son's finger, and sandals on his feet. He also told his servants to prepare a great feast and to prepare a fatted calf. He proclaimed, "For this my son was dead and is alive again; he was lost and now is found".

During the festivities the older son came home and asked the servants what was happening. He was told that his brother had returned and that his father has received him joyfully with a great celebration. The older brother became very angry and would not go in to the celebration. The father came out and pleaded with the older son to come in, but he answered by saying he had always been faithful to his father, yet the father never gave him the opportunity for such celebration. The elder brother expressed his anger over his brother who was received in such a grand manner after he squandered his inheritance.

The father's response was, "You are always with me, and all that I have is yours. It was right that we should celebrate and be glad, for your brother was dead and is alive again, and was lost and is found".

The parable of the Prodigal Son is a true example of repentance and return to a life in Christ. Repentance is the return from being banished because of sin, to our Lord's home. Repentance implies action or change, the younger son states that he will rise up and go to his father and ask for forgiveness. Repentance is a meticulous decision to change, from the depth of our soul and to act upon it. The parable shows us three phases of repentance: the state in which the sinner is in, the tenet of repentance and God's compassion, patience and love.

When we sin and fall into anguish over our sins, we sometime think that there is no forgiveness, this parable offers us hope through God. God patiently waits for our return. There is no sin that can overcome God's love for us.

Through this parable and the teachings of the Church we are reminded of what we have abandoned and what we have lost. It moved us to find the desire and power to return back to Christ through repentance and the Sacrament Confession. The Lord waits patiently for us, and He is ready to receive us through His loving forgiveness and His saving embrace.

As we approach Great Lent, we ask our Lord to strengthen us and to gives us the strength to examine our lives, repent and become closer to Him through Holy Confession.

In His Love,
+Father Michael
---
Church Services Hours
Sundays:
Orthros at 8:45 am; Divine Liturgy at 10:00 am
Weekdays:
Orthros at 9:00 am; Divine Liturgy at 10:00 am
---
Online Bill Pay
The Annunciation Church offers an online bill pay service for the convenience of our parishioners. Click on the links below to fulfill your Stewardship or make other payments by credit card.
Donations (in memory of, floral, other)
---
Contact Information
Annunciation Greek Orthodox Church
457 Oak Street
Brockton, MA 02301
508-559-0910
Rev. Protopresbyter Michael A. Kouremetis
Telephone: 508-559-0911
Email: FrMichael@annunciationbrockton.org
Directions:
From Route 24 take Exit 18B (Route 27 North - Stoughton).
At lights take a right on to Pearl Street.
At second set of lights take a right on to Oak Street.
Drive 1 mile. The church is on the left. Welcome!
Office hours:
Monday through Friday from 9:00 am to 2:00 pm
Telephone: 508-559-0910
Email: office@annunciationbrockton.org
Click to join the Annunciation Church - Brockton E-mail List »
For questions or comments concerning this web site please contact the Webmaster at
helpdesk@annunciationbrockton.org
Online Chapel