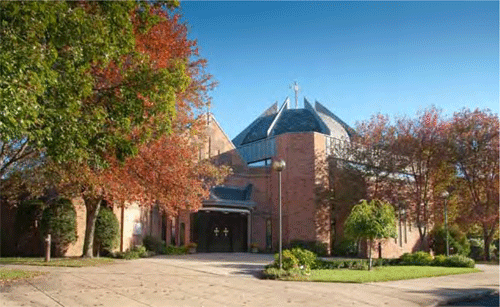 Beloved brothers and sisters in Christ,
Christ is in our midst!
Welcome to the website of the Annunciation Greek Orthodox Church of Brockton, MA. The Annunciation is within the Metropolis of Boston, which is part of the Greek Orthodox Archdiocese of America – one of the daughter Churches of the Ecumenical Patriarchate of Constantinople. The Church of the Annunciation is the only Eastern Orthodox Church in Brockton and its surrounding communities.
At the Annunciation, we conduct the full cycle of Sunday services, commencing with Great Vespers on Saturday evenings through Orthros (Matins) and the Divine Liturgy on Sunday mornings. Throughout the liturgical year, we also celebrate the feasts of our Lord and the Theotokos (Mother of God), as well as the feasts of all major saints of the Church. From fall through spring, Small Vespers are also celebrated on most Wednesdays nights, with adult religious education sessions following the service.
We welcome all to worship with us, whether you are visiting the area or live locally. May God bless you!
†Fr. Anthony Evangelatos
Presbyter
---
Upcoming Services and Events
Great Vespers
Apr 29 6 pm
Sunday of the Myrrhbearers Divine Liturgy
Apr 30 10 am
Greek Independence Day Parade
Apr 30 1 pm
Boylston Street, Boylston St, Boston, MA, USA
Philoptochos Meeting and Election of Officers
May 2 7 pm
Abbreviated Orthros followed by Adult Religious Education
May 3 10 am
Hungry Friends Fundraiser
May 4 6 pm
Annunciation Spotlight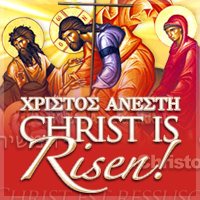 ---
Hungry Friends Raffle & Dinner
to benefit the Annunciation Church
Thursday, May 4, 2017 at the Church Community Center
6:00 pm - Cocktails & Appetizers
7:00 pm - Buffet Greek Dinner
8:00 pm - Raffle
Donation: $125 ($25 for an additional guest meal)
Please see a Parish Council member or call the Church office for tickets
Click here for the event flyer »
---

June 19-26, 2016. See the official documents, news, photos, video, and more »
---
Fr. Anthony's May 2017 Message
Χριστὸς Ἀνέστη! Christ is Risen! What a joy it is, beloved in Christ, to greet each other with these blessed words once again. No other phrase uttered by human beings carries the importance and cosmic significance than these two simple words. When we also consider the words of the troparion of Pascha, we further express the entire foundation of our Orthodox Christian faith. The words are simple and straightforward, but carry the fullness of our faith: Christ is risen from the dead, by death trampling down upon death, and to those in the tombs He has granted life.
If we are totally honest with ourselves, we would all agree that the greatest fear we have in life is the reality of death. If we didn't have the basic belief in the resurrection of Christ, could we even imagine how much more profound that fear would be? In our human weakness we cannot help but be preoccupied with this reality; however, our belief in Christ's resurrection, which grants us eternal life, is what replaces fear with hope.
Choosing not to believe in the Risen Christ equates a life of hopelessness, most especially regarding the end of life and beyond. Sincere faith in Christ and belief in the meaning of His death and resurrection brings us profound hope that no one can take away, unless of course, we allow the Devil to influence us otherwise. Every Pascha we Orthodox Christians with great faith, hope, and love boldly proclaim, Christ is Risen! Those who no longer accept the basic tenets of Christianity, without outwardly stating this, through their unbelief are instead proclaiming, Christ is dead! Even putting these words in writing makes me shudder profoundly.
This, beloved, is what the Church means by spiritual death. If the cares and pleasures of life become our main focus to the extent of replacing our faith and hope in God, then we are definitely on the road toward spiritual death. The first danger sign of this unfortunate path is when one's faith becomes lukewarm. In this state, prayer, church attendance, and participation in the holy sacraments is most likely quite minimal or even non-existent. The beauty of our Orthodox faith is that when we are willing to be open to the saving grace of the Holy Spirit, such situations can be turned around, even if just prior to death. The hope and prayer of Orthodox clergy is that we all continually become spiritually renewed, especially through our annual Lenten experience, thereby solidifying our belief and hope in the resurrection of Christ more and more each year.
As true believers in Christ, we find the strength and hope within us to deal with the most difficult issues of life, specifically, illness and death. If we have spouses, children, or parents dealing with a serious illness, we have nowhere to turn for strength except to God and His Holy Church. Physicians can only give us hope for a positive outcome up to a certain point. When it becomes clear that someone will not survive, then only our faith can give us the strength to accept God's will. Knowing that life continues after this life, and without the pain and suffering endured by our earthly bodies, we then have hope for our loved ones who are being called to the next life.
Our faith in the Lord's resurrection also gives us strength to deal with the reality of death when it occurs. It is interesting to note that the Orthodox funeral service is always "resurrectional" in character, no matter what time of the year or day of the week a funeral is held. The service incorporates the theme of the resurrection of Christ throughout, thus reminding us of the blessed life to come. When we attend the funeral of a friend or loved one, we should always carry the hymn of Pascha within us as a prayer to give us strength, and to remind us of the blessedness of eternal life. As I many times mention at funerals, it is necessary for us to mourn our loved ones and shed tears to fully express our emotions. In His humanity, our Lord did the same when he approached the tomb of Lazarus. However, as believers in Christ, we are able to walk away from the grave with a sense of hope and relief that our loved one is now living eternally in the new life. For this reason our Church offers memorial services for those who have fallen asleep since they are truly alive, not dead, and in need of our prayers toward their salvation.
My beloved brothers and sisters in Christ, hopefully through this year's observance of Lent and celebration of Holy Pascha, we have all been spiritually renewed in order to face yet another year of life with all its ups and downs. The joyous season of Pascha truly fills our hearts with the greatest promise that God has granted us – eternal life in His Kingdom which has been opened to us through His empty tomb.
In the Risen Christ,
†Fr. Anthony
---
Church Services Hours
Sundays:
Orthros at 8:45 am; Divine Liturgy at 10:00 am
Weekdays:
Orthros at 9:00 am; Divine Liturgy at 10:00 am
Great Vespers:
Saturdays at 6:00 pm
---
Online Bill Pay
The Annunciation Church offers an online bill pay service for the convenience of our parishioners. Click on the links below to fulfill your Stewardship or make other payments by credit card.
Donations (in memory of, floral, other)
---
Contact Information
Annunciation Greek Orthodox Church
457 Oak Street
Brockton, MA 02301
508-559-0910
Directions:
From Route 24 take Exit 18B (Route 27 North - Stoughton).
At lights take a right on to Pearl Street.
At second set of lights take a right on to Oak Street.
Drive 1 mile. The church is on the left. Welcome!
Office hours:
Monday, Wednesday and Friday from 10:00 am to 2:00 pm
Tuesday and Thursday from 9:00 am to 1:00 pm
Rev. Fr. Anthony Evangelatos - Presiding Priest
priest@annunciationbrockton.org
Office - office@annunciationbrockton.org
Join the Annunciation Church - Brockton E-mail List »
For questions or comments concerning this web site please contact the Webmaster at
helpdesk@annunciationbrockton.org
Online Chapel