Welcome!
The Annunciation Parish was established in 1916 and it is the spiritual home of more than 400 devoted Orthodox Stewards in the greater Brockton area. Our Parish Family is comprised of welcoming and loving congregants who are excited to share our hospitable outlook, vibrant ministries and rich sacramental life. We trace our spiritual roots to the time of Christ and His Apostles. For over 2,000 years we are continually blessed by the Grace of the Holy Spirit through Apostolic Succession. Our faith is ancient, yet amazingly contemporary, speaking to God's people in the present time.
We look forward to welcoming your family to our Annunciation Church Family!
---
Upcoming Services and Events
The Apodosis (Leave-Taking) of Pascha - Live Streamed Only
May 27 5:30 pm
Divine Liturgy on the Eve of Holy Ascension
May 27 6 pm
Orthros - Live Streamed Only
May 31 8:45 am
Sunday of the Fathers of the 1st Ecumenical Council Divine Liturgy - Live Streamed Only
May 31 10 am
Orthros - Live Streamed Only
Jun 7 8:45 am
Holy Pentecost Divine Liturgy - Live Streamed Only
Jun 7 10 am
Philoptochos Sack A Lunch Outreach
Jun 9 6 pm
Annunciation Spotlight
Live Stream Our Services
Click on the links above to view services from the Annunciation Church live through YouTube and Facebook
---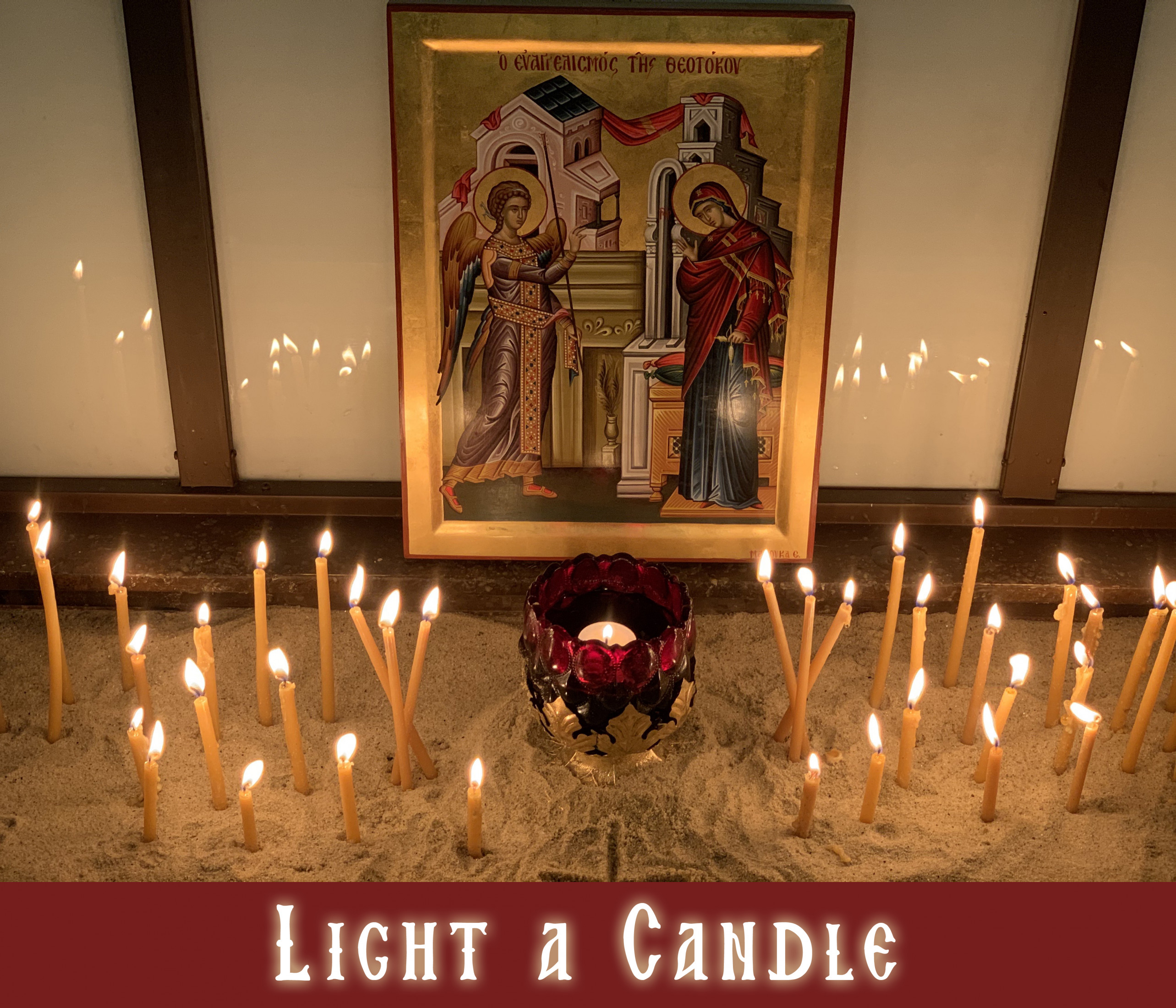 When you make a donation we will light a candle for you in our Church.
For Wax Candle lighting and General Donations, please enter the donation amount in the box, and then click "Donate".


---
Coronavirus (Covid-19) Parish Update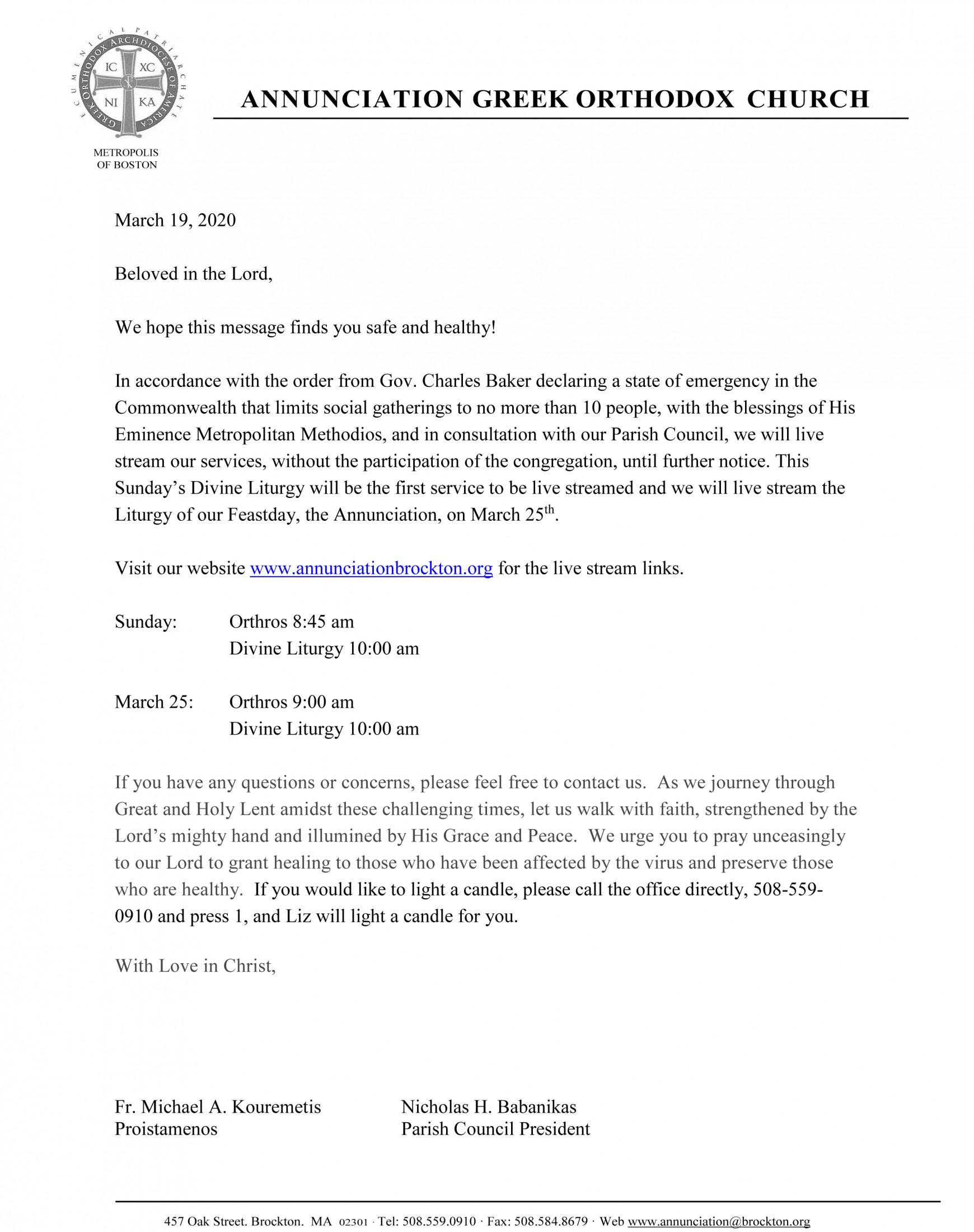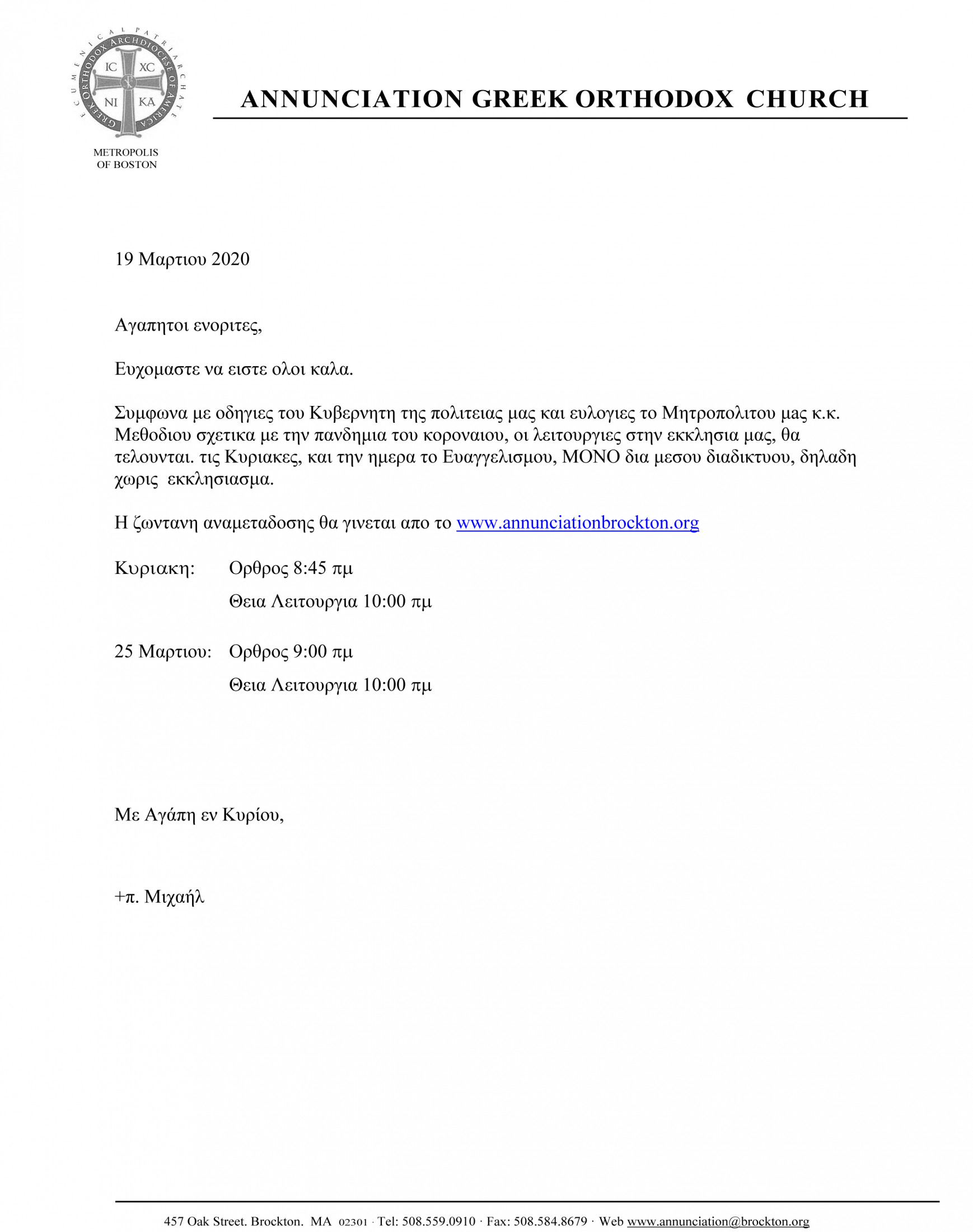 ---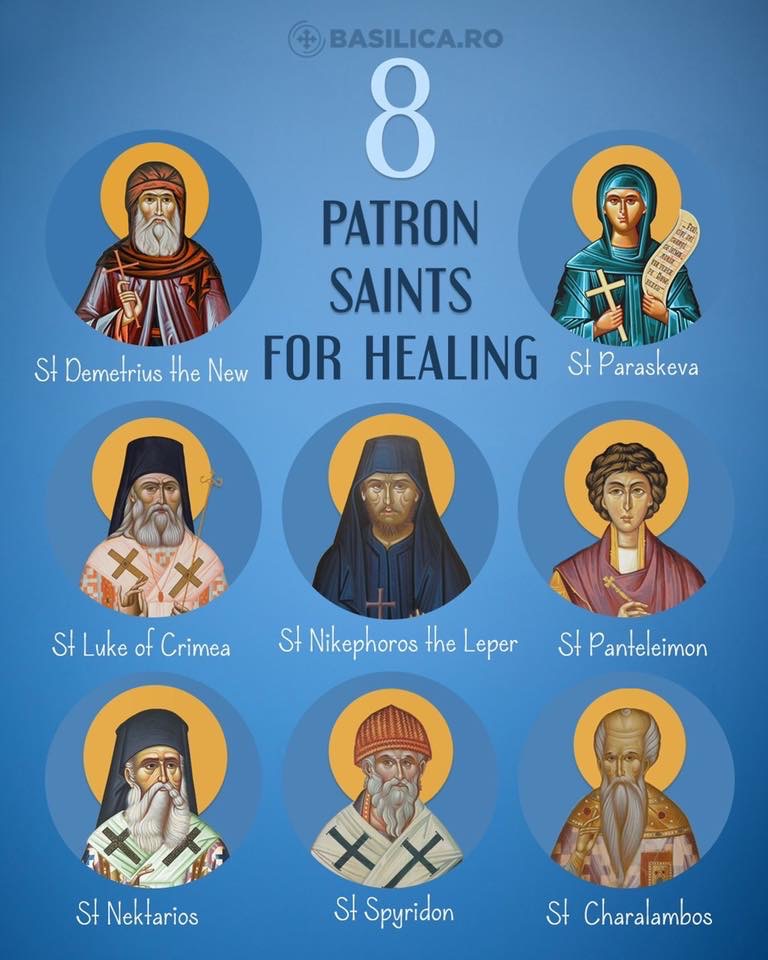 ---
Fr. Michael's April 2020 Message
"If you worked from the first hour, receive today your just reward. If you came after the third hour, you are welcomed to celebrate. If you arrived after the sixth hour, have no doubt, for you suffer no loss. If you delayed until the ninth hour, come near with no cause to hesitate. If you arrived even at the eleventh hour, do not be fearful of the lateness; for the Lord is generous and accepts the last as He does the first."
From the Paschal Homily of Saint John Chrysostom


My Beloved in Christ,

In a few days we will celebrate, with great joy, the Glorious Resurrection of our Lord and Savior. We celebrate the "Feast of Feast" with pronounced energy, thanksgiving and love. We know, with every fiber of our being, that by His suffering, His ultimate sacrifice, His love and His empty tomb we inherit eternal life.
He is Risen and the New Jerusalem is established; we have become Citizens of His Holy Nation. The Grace of the Resurrected Lord, the Light that enlightens us all, has trampled down the power of death and by restoring the fallen Adam, humanity is restored.
Let this Holy and Mystical Pascha be the resurrection of our hearts and souls; may we all offer praise and exaltation to Him who voluntarily gave His life for us. His sacrifice was offered so that we may be saved and be numbered as faithful children of Light. Our Lord, the incorruptible, would not be corrupted by death; the creator of Life would not be extinguished by death. He lives so that we can live, and He Loves us so that we can love.
I extend, on behalf of Presbytera Cyndy and I, our heartfelt love and greetings on this Holy and most Sacred Πάσχα. May Christ, who laid in the tomb and rose from the dead Bless and Sanctify all of us. In anticipation, we eagerly greet you with one voice Χριστός Ανέστη!! Christ Is Risen!!
In His Love,
+Father Michael
---
Church Services Hours
Sundays:
Orthros at 8:45 am; Divine Liturgy at 10:00 am
Weekdays:
Orthros at 9:00 am; Divine Liturgy at 10:00 am
---
Online Bill Pay
The Annunciation Church offers an online bill pay service for the convenience of our parishioners. Click on the links below to fulfill your Stewardship or make other payments by credit card.
Donations (in memory of, floral, other)
---
Contact Information
Annunciation Greek Orthodox Church
457 Oak Street
Brockton, MA 02301
508-559-0910
Rev. Protopresbyter Michael A. Kouremetis
Telephone: 508-559-0911
Email: FrMichael@annunciationbrockton.org
Directions:
From Route 24 take Exit 18B (Route 27 North - Stoughton).
At lights take a right on to Pearl Street.
At second set of lights take a right on to Oak Street.
Drive 1 mile. The church is on the left. Welcome!
Office hours:
Monday through Friday from 9:00 am to 4:00 pm
Telephone: 508-559-0910
Email: office@annunciationbrockton.org
Click to join the Annunciation Church - Brockton E-mail List »
For questions or comments concerning this web site please contact the Webmaster at
helpdesk@annunciationbrockton.org
Online Chapel